Why Nebia Incorporates Kickbooster Into Their Public Relations Strategy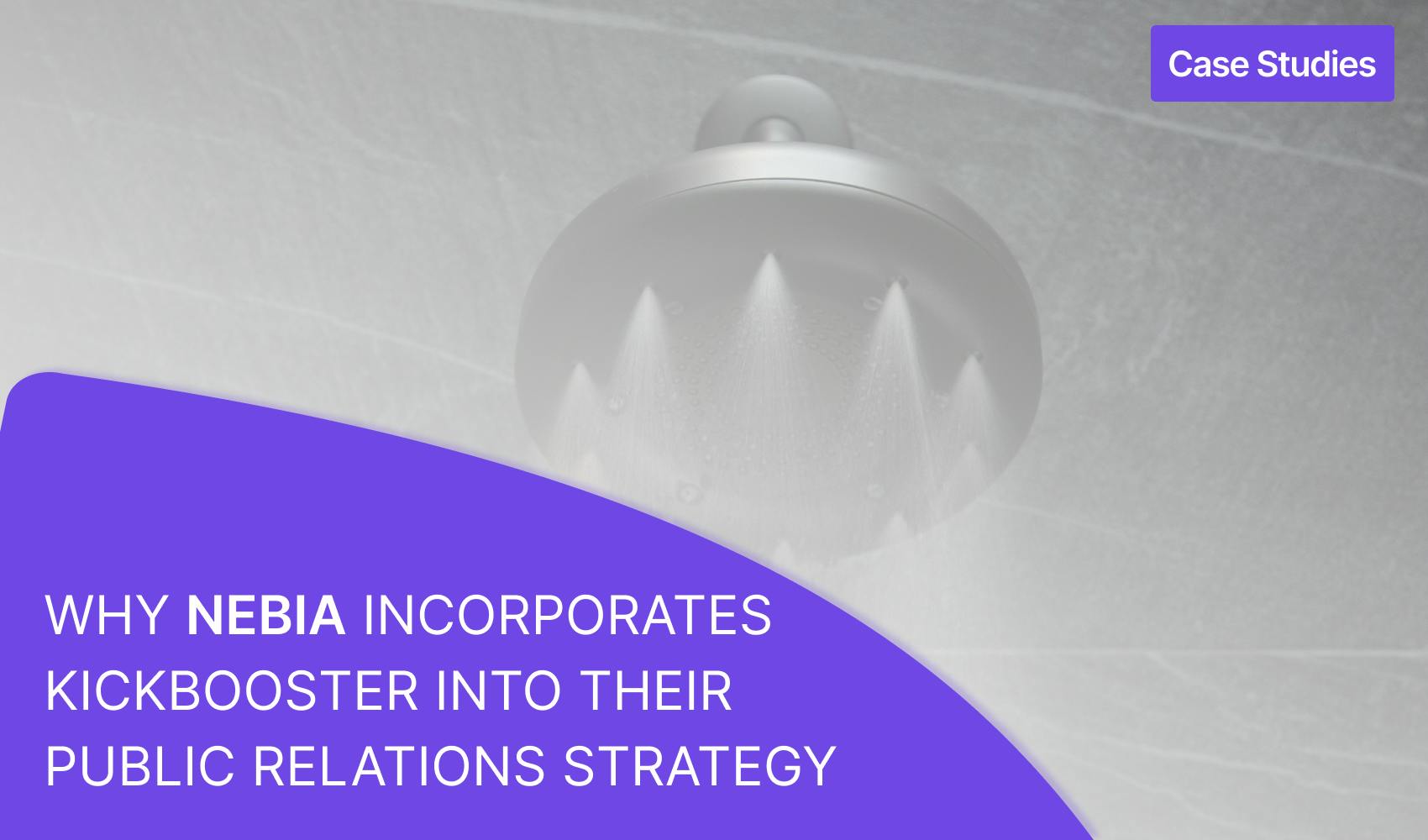 The Background
Nebia began as a way to reinvent the way people experience water, their goal was (and still is) to try to leave the planet a better place. 
With the global population expected to grow by 2.5 billion people by 2050, the world's water supply will be put under immense strain. Nebia set out with a vision to change how people interact with water in their daily lives and inspire a generation of people to innovate towards a more sustainable future. 
Nebia was born in 2010 in Mexico City when Carlos Andonaegui was looking for ways to reduce water consumption in his chain of national health clubs. Shortly after he met Philip Winter and in 2014 the pair took their idea to San Francisco to build a product that would resonate on a global scale. Nebia launched their first Kickstarter campaign in 2015, 8,300 backers from around the world helped take the Nebia Shower System from prototype to product. Since then, Nebia has run three more Kickstarter campaigns, attributing the platform as an integral part of their product launch strategy.
The Challenge
Nebia's public relations effort played a huge part in each of their product launches, receiving placements in high profile publications such as Forbes and The New York Times. Through those placements, Nebia also saw a surge of people clicking on their campaign page. Around the time of the Nebia By Moen launch, an internal member of the team suggested the use of a referral marketing tool to help increase traction from the high profile placements and earn additional revenue. The referral tool they brought to the table was Kickbooster.
The Outcome
Nebia has boosted over $340,000 in additional revenue through Kickbooster's referral marketing and ecommerce apps. "Affiliate marketing is important for our Kickstarter strategy," says Taylor Louis, Interim Head of Growth for Nebia, "it's very effective and any incremental revenue is helpful."
Because Nebia is a smaller company, it was important for them to onboard an affiliate marketing tool that could run in the background without requiring any hand-holding from their team. "Kickbooster is very easy to use," says Louis, "anyone who is going to run a Kickstarter campaign should use Kickbooster – it's a no brainer. The two fit together in perfect harmony." 

Kickbooster runs in tandem with Nebia's larger PR strategy during a product launch. Aside from publication placements, Nebia sends an email out to anyone who boosted their previous campaigns and posts the campaign to Kickbooster's Marketplace. It is through these efforts that Nebia has gained over 1,900 Kickbooster boosters. 

"Kickbooster adds value, plain and simple," says Louis. "We've always earned a decent amount of revenue through Kickbooster and it just works in the background. Anyone who's using Kickstarter should also use Kickbooster."