Drive more traffic to your Crowdfunding Campaign
Kickbooster Pre-Launch Pages help you build an audience even before you launch your campaign. Then, our
Affiliate Program helps you raise money during your campaign, increasing your chance of reaching your funding goal.
Learn More
Try it Free
Check it out for free. No credit card required.
What is Kickbooster?
Kickbooster is an online tool that helps crowdfunding project creators build hype, increase awareness,
and ultimately reach their funding goal. Try it today and see how it can help your campaign.
Pre-Campaign
Pre-Launch Pages
Start building hype and followers early by collecting email addresses even before you launch your crowdfunding campaign.


During Campaign
Referral Program
Run a referral program during your crowdfunding campaign to provide incentive for backers & marketers to share and promote your campaign.


Post-Campaign
Redirect Links
Once your campaign is over, point your Booster links to your website, Late Backer page or eCommerce store and bring your followers with you.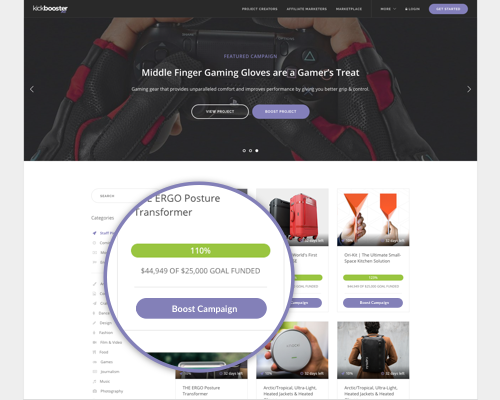 Introducing the Kickbooster
Campaign Marketplace
For Project Creators
As an added bonus, you have the ability to add your campaign to our Marketplace page, making it instantly available to thousands of Affiliate Marketers waiting for the next campaign they want to promote! This will drastically increase your reach and improve the chance of your campaign going viral.
For Affiliate Marketers
Become a Booster (Affiliate) to get immediate access to hundreds of crowdfunding campaigns in the Kickbooster Marketplace that are offering a reward for helping spread the word about their campaign. Choose the ones you want to promote, blog, post, and tweet about them, and get paid for your efforts.
4,752
Campaigns Boosted
30,480
Active Boosters
79,441
KB Links Generated
7,135,326
Page Visits from KB Links