unda – Your Everyday Bottle, Cup and Storage Compartment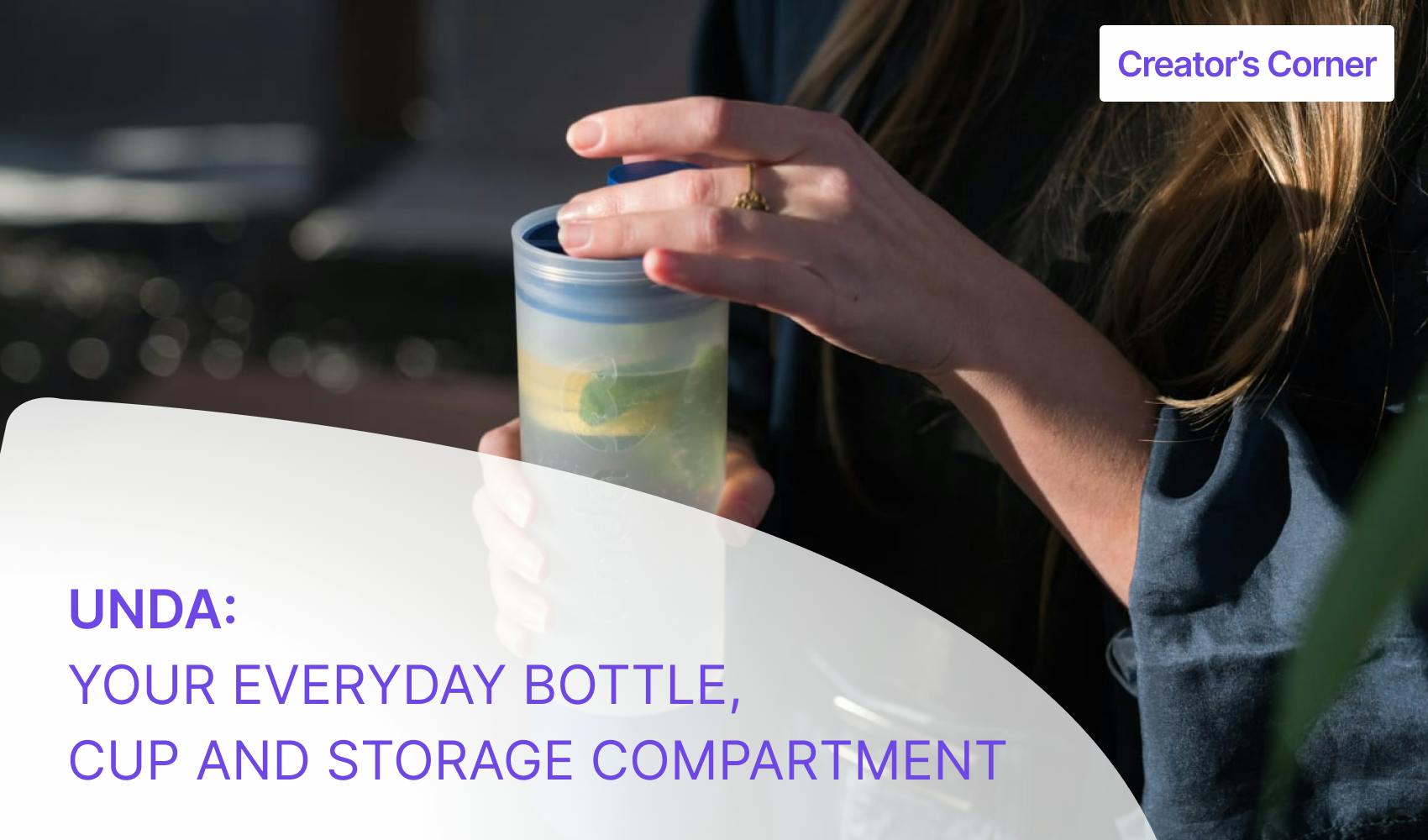 A 3-in-1 bottle that can be converted into a big cup with no parts leftover. unda is versatile, convenient, multifunctional, and stylish.
Meet the creator
I studied Economic Science with Sustainability, Supply Chain Management, Consumer Behavior (B.Sc), and International Economics with Energy Economics. (M.Sc).
I worked at Mercedes-Benz and at the ISW Institue but figured out that I wanted to start with my own idea, a sustainable as well as stylish reusable bottle. 
My role models are  FinalStraw,  LastTissue and  MOFT. Companies like Patagonia, Ecoalf, and SpaceX. My main sources of inspiration are daily life, traveling, and reading news about pollution of the oceans.
Why did you choose to crowdfund your project?
To me, crowdfunding is a sustainable and social way to finance a project without the need of a bank credit or VC, all while getting feedback and support from people all over the world. Backers are curious and really engaged to make suggestions to improve the project.
Crowdfunding is the right fit because the product is innovative (European patent pending), multifunctional, sustainable, and best of all, super useful and consumer-friendly. 
Do you have any prior experience with crowdfunding?
Since my studies, I am following different kinds of crowdfunding possibilities. Years ago, I invested in Volocopter, which is one of the promising alternatives for sustainable urban transport. I am a first-time creator and six-time backer. 
Meet unda – Your Everyday Bottle, Cup and Storage Compartment
unda is a versatile 3-in-1 bottle, cup and storage compartment. It can be converted into a big cup with no parts leftover. It is the best bottle-to-cup solution on the market. It helps prevent single-use in daily life and therefore it is part of the solution (the undalution) to tackle the environmental problem caused by single-use products.
Features: Multifunctional, eco-design, Swiss-made, dishwasher safe, leakproof, reusable, fits into most cupholders, BPA-free, prevents single-use bottles AND cups, sustainable, recyclable, hot and cold, tooth-friendly, lightweight, food grade, easy to clean
Hidden feature: can be used as a diffusing lamp
Press coverage: GQ, WIRED, VOGUE (coming soon)
Unique attributes: 3-in-1: Big Cup, Bottle and Storage Compartment, patent pending, special bridge to attach a loop
What inspired you to create this project?
Always have a bottle and a cup on you to stay hydrated with your favorite drink and prevent buying single-use products.
Personally, I do not like small cups because you have to refill them very often. Years ago I switched to reusable bottles because it is more sustainable, cheaper, more convenient, less trouble with deposit (here in Germany, we have to pay €0.25 deposit on single-use bottles) than mineral water in single-use bottles.
My first two reusable bottles were ugly and … just a reusable bottle. unda is more than a bottle. The intrinsic motivation to force this project was seeing the immense pollution of the oceans.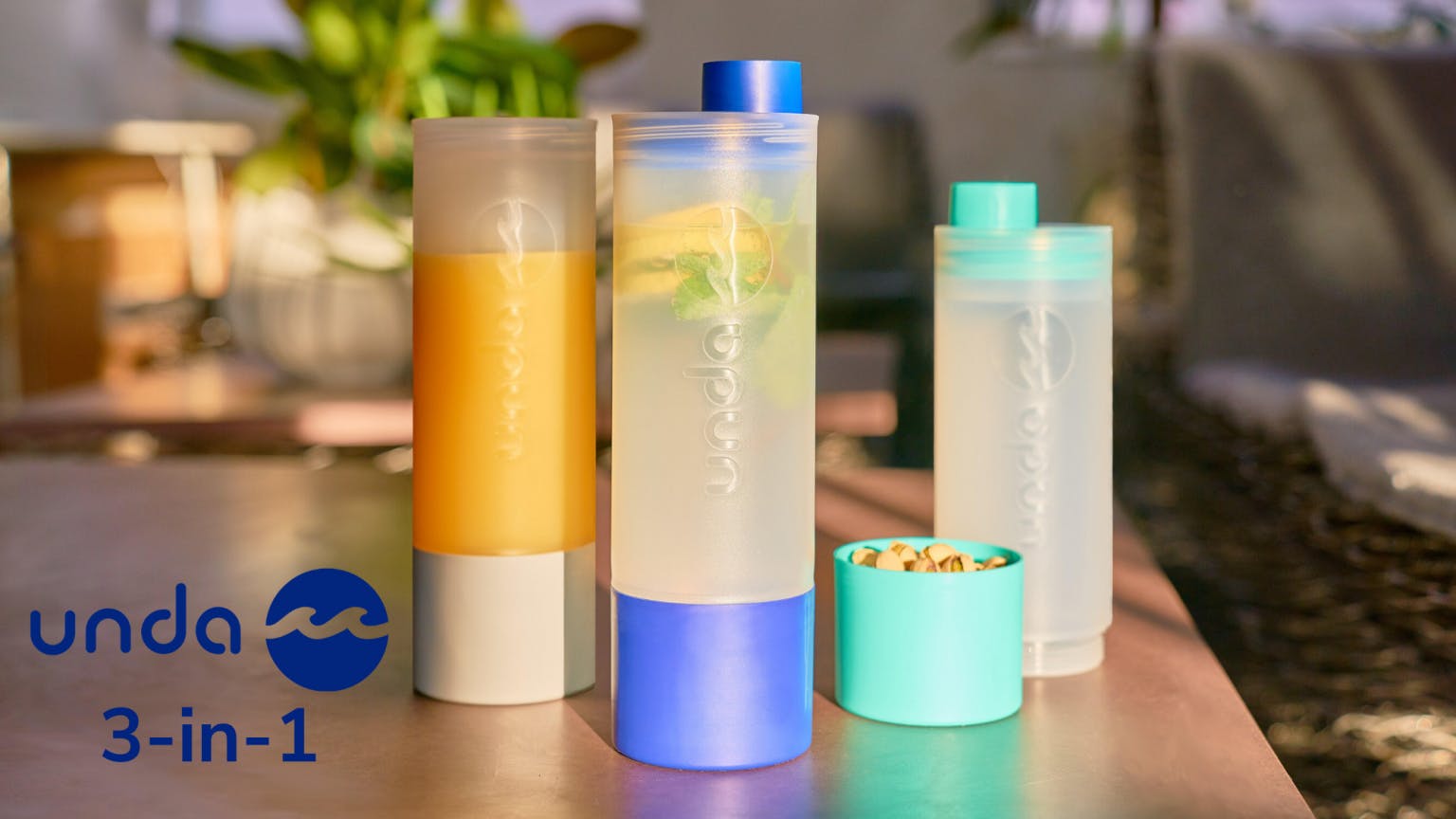 What products/services have you used throughout your project's crowdfunding journey?
Kickbooster, Facebook Ads , Gadget Flow, Facebook, Instagram, Slack, Asana, Gdrive, Strato, and Canva.
What's worked, and what hasn't?
Canva and Slack worked very well. Facebook Ads did not.
What recommendations do you have for other project creators?
Better pre-launch
Select your audience
More e-mail leads
Kickbooster's Blog is a good resource (really, because very neutral!)
Read Blogs from different sources that are about crowdfunding (and the platform you are crowdfunding on)
What stage is your project at now?
unda is currently in production and is expected to ship in August 2020.
What's next?
After crowdfunding, we will develop more accessories for the unda, scale up, enter new markets, and look for B2B opportunities. In 2021 we plan on introducing a new size.
Where can people go to learn more about you and your project?
@undabottle