More Power to You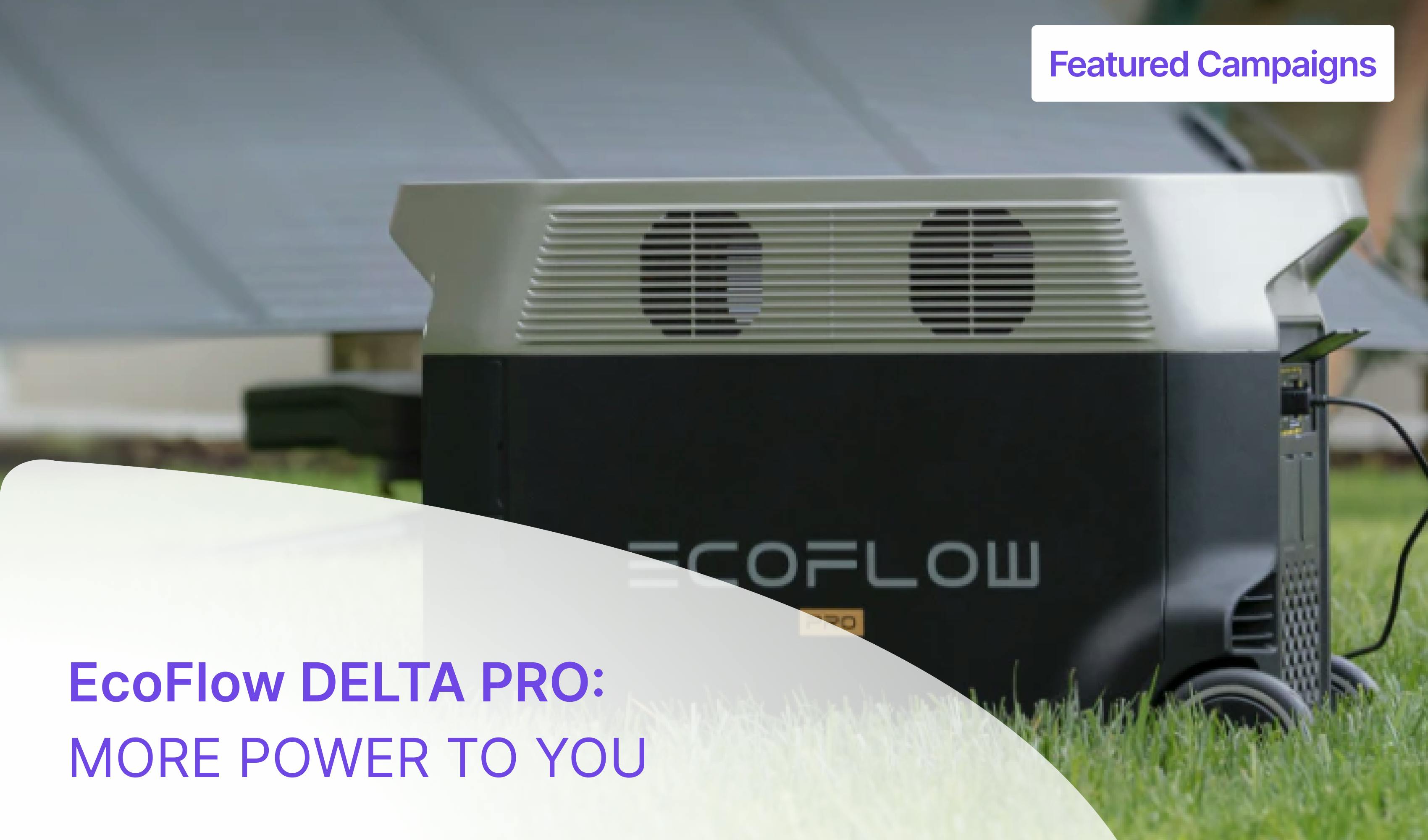 Live without limits
The EcoFlow DELTA Pro is the world's first portable home battery with an expandable ecosystem for home backup, smart energy, and much more. 
With up to 25kWh of ecosystem capacity, the EcoFlow DELTA Pro offers power security and independence, no matter where you are in the world.
Power, uninterrupted
A single EcoFlow DELTA Pro offers an AC output of 3600W, which can be easily increased up to 4500W with added X-Boost technology. This is enough output to power larger appliances like air conditioners and washing machines. The modular design of the expandable EcoFlow ecosystem allows you to combine multiple DELTA Pro units for even more power and capacity. 
The EcoFlow Smart Generator provides confidence and reliability with instant power backup during extended outages. The EcoFlow Smart Generator serves as an emergency option that integrates directly with the DELTA Pro ecosystem. The Smart Generator can autostart, re-charge, and stop the DELTA Pro— enabling maximum use of the battery and minimum use of the generator.
For more power during an outage, you can connect two DELTA Pro units to the Smart Home Panel, giving you up to 7200W through your home circuits.
Save money on energy bills
Upgrade your home and cut down your bills with solar energy! You can use solar energy to charge your DELTA Pro in just 4-8 hours.
EcoFlow's smart maximum power point tracking algorithm can detect voltage and current in real time to increase solar generation, even during cold and cloudy days! 
It gets even better. The EcoFlow Solar Tracker is the world's first portable solar tacker. It follows the position of the sun throughout the day and automatically adjusts the solar panel to the perpendicular position of the sun to improve solar generation by 30%! If no sunlight is detected, the solar tracker will automatically transition into standby until it detects sunlight again.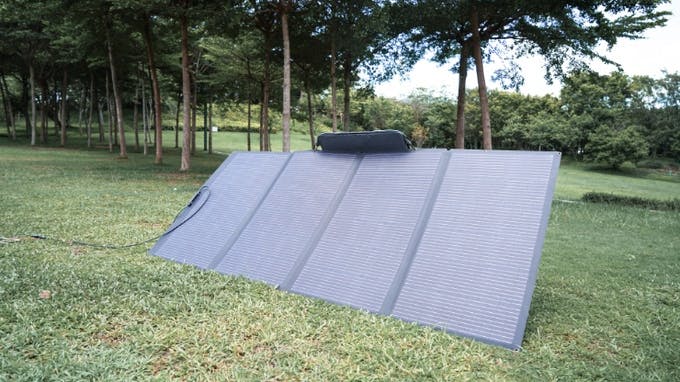 The power is in your hands
What's better than a reliable and powerful home battery ecosystem? One that you can easily control and manage from anywhere. The new EcoFlow app literally puts the power into your hands with full access, control, and customization of your DELTA Pro settings including charging and discharging levels, AC charge speeds, and more. 
The EcoFlow app allows you to prepare and plan for outages, letting you select and modify your device and appliance priorities. This means you can decide which devices stay running during a blackout, and which you can keep off to conserve energy.
The EcoFlow app also allows you to monitor and control your home circuits, providing insight into your energy habits so you can customize your energy usage for any type of situation.
Charge up anywhere, any time
DELTA Pro is the first portable power station to use FlowCharge, allowing you to choose from multiple charging methods and benefit from the fastest charging anywhere and any time.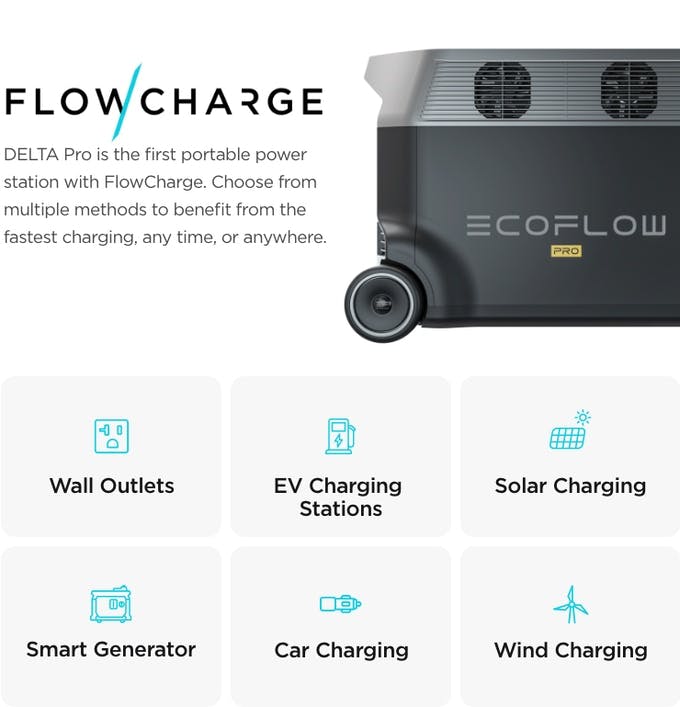 DELTA Pro is the world's fastest-charging portable power station. Multiple charging options deliver record-breaking speeds at 6000W.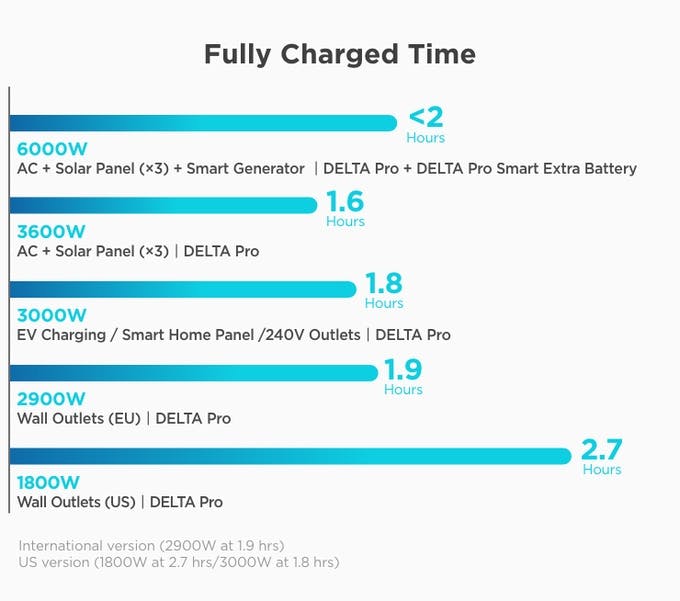 Not just a portable home battery
The EcoFlow DELTA Pro is so much more than a portable home battery— it's a way to power a new world. The expandable ecosystem provides you power when you need it most, with customizable energy around the clock. From emergency backup power to reducing your reliance on the grid with green alternatives, the DELTA Pro energy ecosystem can be customized to power your life, wherever and whenever you need it. Pre-Order your EcoFlow DELTA Pro on Kickstarter today.