Keep The Momentum Going With Kickbooster + InDemand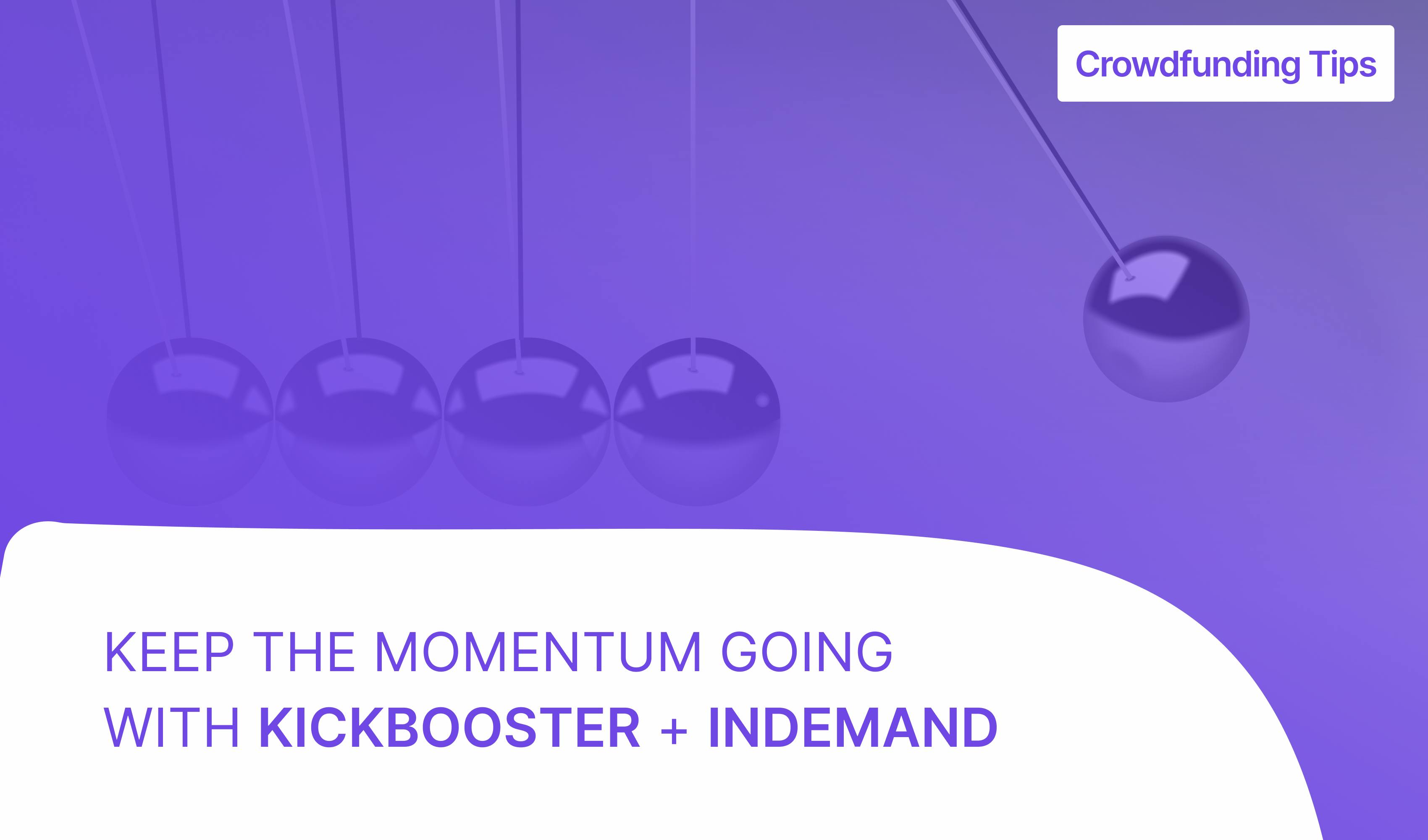 Kickbooster's referral marketing program and Indiegogo's InDemand make the perfect duo for taking your fundraising to new heights after your crowdfunding campaign has ended.
What's InDemand?
InDemand is a post-campaign fundraising tool offered by Indiegogo that enables campaign creators to continue raising funds and building a backer community after their initial campaign ends.
An InDemand page looks, feels, and functions almost the same as an Indiegogo campaign page, but with a few key differences:
No fixed fundraising goal - there is no minimum or maximum amount that can be raised through InDemand

No fixed timeline - creators can sell through InDemand for as long as they'd like

More flexibility - you can edit the perks/rewards offered at any time, like raising the price as you get closer to your shipping date
InDemand has become a very popular tool for creators looking to bridge the gap between crowdfunding and commerce. InDemand allows creators to continue accepting pledges while working to fulfill orders and establish their post-campaign sales channels, like their ecommerce store. 
Many creators have seen great success with InDemand, with some going on to raise even more than they did during their campaign. Take Mous Limited, for example, who raised $416K during their initial campaign and an additional $1.8M during InDemand.
Who can use InDemand?
One of the many awesome things about InDemand is that it's open to more than just Indiegogo campaign creators. That's right— Kickstarter campaign creators are able to benefit from InDemand, too!
Any campaign that meets its fundraising goal by the campaign deadline and is in good standing with Indiegogo may move into InDemand.
Can I use my Kickbooster referral program to drive sales through InDemand?
Kickbooster's referral marketing program is compatible with InDemand, which means you can keep the momentum going by incentivizing your backers, influencers, media partners, and even your friends and family to help drive traffic and sales to your InDemand page!
What happens to my existing Kickbooster affiliates? 
Regardless of whether you ran your campaign on Kickstarter or Indiegogo, all of your existing affiliates' tracking links will automatically redirect to your InDemand page when you transition your referral program. This means that any blogs, social media posts, or email newsletters that contained a Kickbooster affiliate link to your initial campaign will continue to drive results by now pointing traffic to your InDemand page. 
Existing Affiliates will be notified that the campaign has transitioned to InDemand and they will be able to continue earning commissions.
What if I didn't run a Kickbooster referral program during my crowdfunding campaign?
If you didn't run a referral program during your initial crowdfunding campaign, you can still create one for your InDemand page! Get started here.
Best Practices: Kickbooster Referral Marketing & InDemand
Here are a few tips to get the most out of your referral marketing program when using InDemand:
Transition your referral program as soon as your InDemand page is live to ensure any traffic from existing affiliate links is being directed to the right place.

Invite your backers to participate in your referral program. As your first official customers, your backers will be able to act as advocates for your brand and encourage others in their network to back your project too. Offering your backers an incentive for referred sales is a great way to thank them for their continued support.

Let your content partners (influencers, media outlets, bloggers, etc.) know about your InDemand plans as soon as possible. Any affiliates who create original content like a blog post or YouTube video to help promote campaigns will be more interested in working with you if they know you plan to continue fundraising through InDemand. Why? Creating content is a lot of work! A YouTuber is more likely to take the time to plan, film, edit, and publish a video if they know it will be able to generate commissions for months instead of the short 30-day window that most crowdfunding campaigns run for.
How can I transition my referral program to Indiegogo InDemand?
Transitioning your Kickbooster referral program over from Indiegogo or Kickstarter to InDemand is fast and simple! Follow the steps in this article to get started.