How to Transition From Crowdfunding to Ecommerce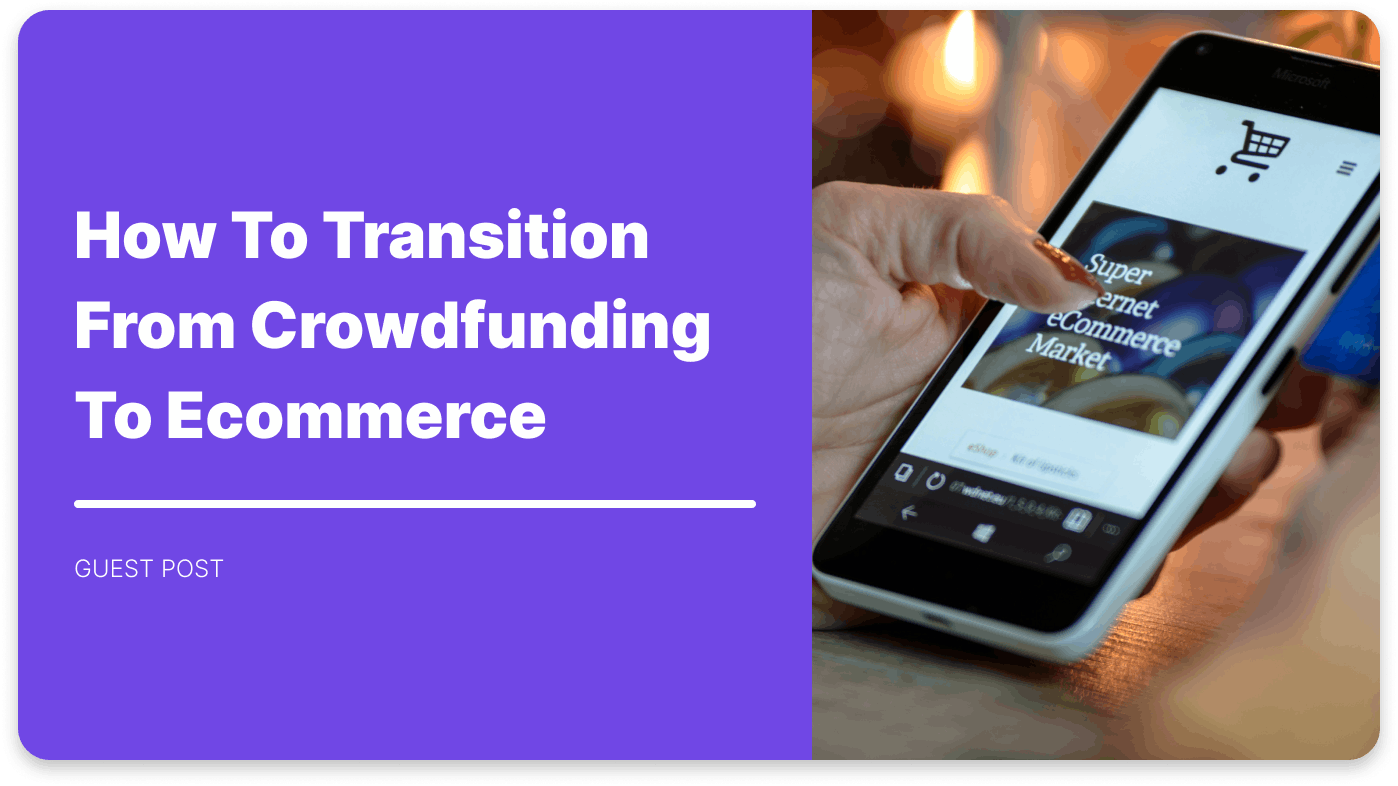 Congratulations on your successful crowdfunding campaign! By reaching your funding goal, you're already doing better than most! This finish line is really just the beginning of your business' journey, however. Now, the real work begins.
So, how do you build on the success of your campaign and transition your business from pre-order on crowdfunding to ecommerce success? There are two main roads many creators take: post-crowdfunding marketing or direct-to-ecommerce. 
Post-Crowdfunding Marketing
If you're not quite ready to begin shipping to backers and accepting new orders from the public, post-crowdfunding marketing is a solution you could consider. You've done all the hard work to build a crowd of supporters around your idea. Now, you need to nurture that community.
Send People Somewhere
The first thing you need to do is prepare your existing crowdfunding campaign for its end. Think about where you'll direct backers or those who missed out on the original campaign. For many creators, transitioning to Indiegogo's InDemand provides a stopover where you can continue growing your community and raising funds while working on your product. 
Another viable post-crowdfunding marketing strategy is to create a landing page or microsite that can collect email addresses and accept pre-orders. This cuts out the middleman of Indiegogo's InDemand but also cuts out their network of supporters. If you're opting to create your own site, know that you'll have to do the work to drive traffic there.
Develop Marketing Materials
You'll have to figure out messaging once you know where you're sending potential customers after your campaign. You'll be speaking to a larger audience, so you should re-introduce your product. 
Plan out email marketing campaigns and how you will educate potential customers about your product and encourage them to buy. This series can pull from your crowdfunding email materials but should go further. 
Other marketing materials to create include a social media calendar and blog content. These materials are your opportunity to be creative and connect with customers in a fun way. Consider the comments and questions from your campaign. Answer questions that came up, and creatively show how your product can be used.
In this post-crowdfunding phase, look for ways to implement user-generated content. Send production samples or early units out for review. These "real person" accounts are often more effective in marketing than messaging that comes directly from the brand.
Advertise Your Product
You'll want to gather creative assets to use in digital advertising like you did with your crowdfunding campaign. Pull images, videos, and GIFs to use with quotes and copy. Be sure to have a variety to choose from as you'll be reaching out to new audiences in addition to those who may have seen your product while it was crowdfunding.
Be sure to look at all avenues for advertising including Google, Facebook, Instagram, TikTok and more. Post-crowdfunding, you'll find new audiences for your product and you'll want to think creatively about how to reach them.
Direct to Ecommerce
If you opt to go the post-crowdfunding marketing route, you'll eventually launch your website and execute all the strategies worked on during the post-crowdfunding phase. 
Sometimes, creators finish their campaign and have already built their ecommerce website to continue taking pre-orders. If this is you, you'll transition directly from the campaign to the launch of your website. Creators who want to skip the "post-crowdfunding" phase have to work double-time while their campaign is still live to ensure a smooth transition over to the website launch.
Finalize Brand Guidelines and Messaging
It's wise to finalize your brand guidelines and messaging during the final days of your campaign if you plan to transition to ecommerce. Take what you learned from your crowdfunding campaign and codify it. What values do you want to convey to your potential customers? How can you position yourself as the resource they need to improve their lives? Even simpler things like fonts and colors should be written down for future use.
If there were taglines that resonated well with the crowdfunding audience, be sure to note it. Similarly, think of messaging that can reach to new audiences.
Choose a Platform and Build Your Site
If you're going straight to ecommerce, you'll need to build out a place for your customers to purchase, or pre-order, your products. Some of the most common platforms include Amazon, Shopify and WordPress. 
Shopify is geared toward sales, while WordPress is generally lauded for its versatility. For simple ecommerce sites, Shopify tends to be easier to get up and running. If you want to integrate more functions or customization, WordPress might be better. 
It's also worth considering having a presence on Amazon in addition to your primary website. A presence on Amazon opens up media opportunities, the ability to gather reviews and feedback and a new customer base.
Determine Fulfillment and Shipping Needs
Once you're done with crowdfunding, customers will expect faster delivery on their orders. Unless you clearly state that you're collecting pre-orders, you'll want to have the product in stock ready to ship.
This means fulfillment is warehoused and shipping partners are established. Use the demand from your crowdfunding campaign as a barometer to determine how much inventory you should have on hand. If you're going to use your ecommerce site to collect pre-orders while you're fulfilling campaign rewards, use that interest to determine warehousing needs.
Reach out to third-party logistics providers to determine shipping costs. There are a number of providers you can choose from, and each has different advantages and disadvantages.
Launch Site and Execute Marketing Strategy
Remember, all of the prep work above will happen while your campaign is live. When your campaign ends, it's time to turn on your site and execute on the messaging and strategies you've put in place.
If this feels overwhelming, reach out for support. Enventys Partners has helped hundreds of creators navigate the crowdfunding process and transition to ecommerce.