How to Run a Practical Marketing Giveaway For Your Crowdfunding Project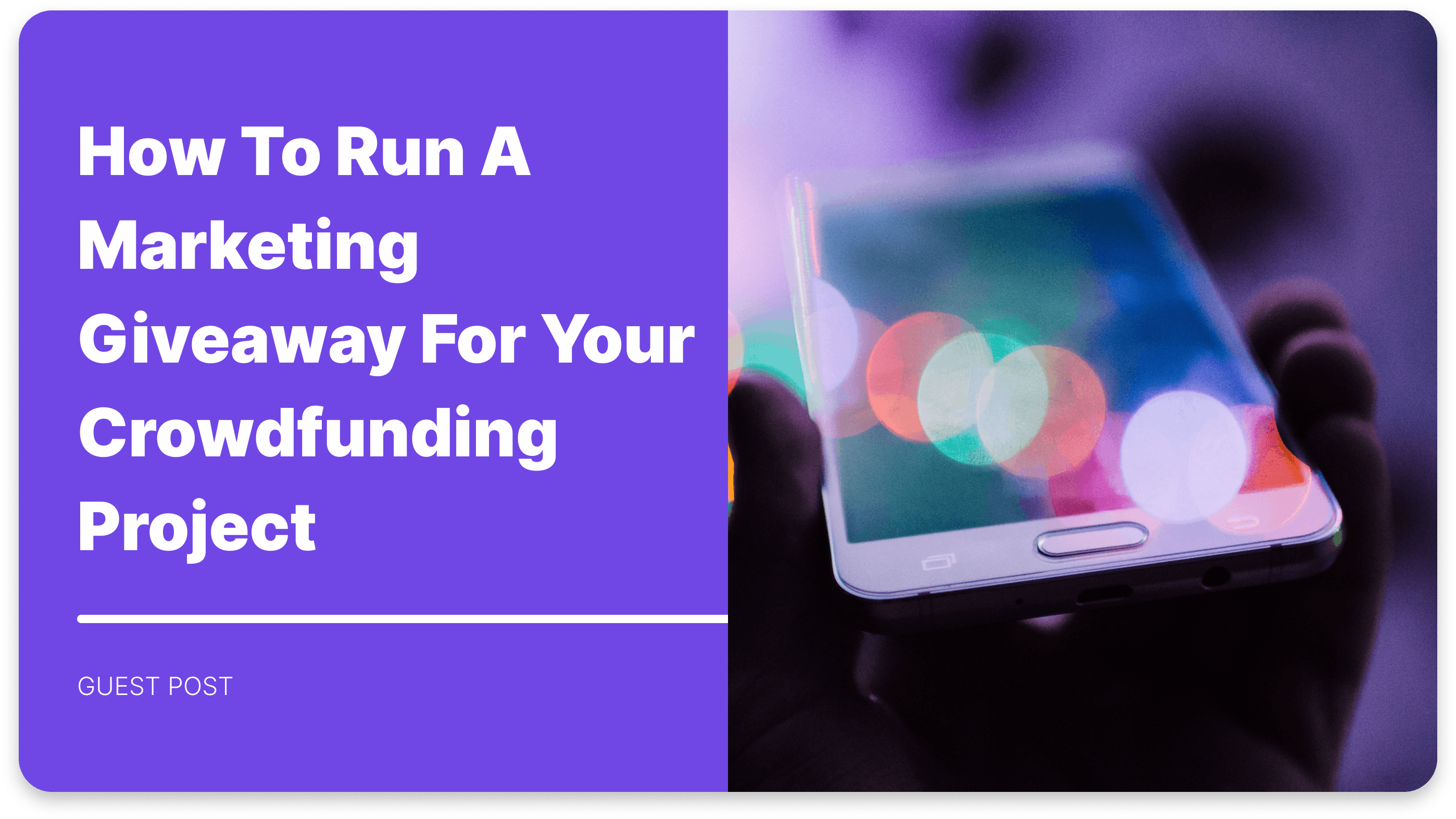 Running a giveaway during your live campaign – it probably sounds counterintuitive, but is it really an offset?
Of the 555,289 products on Kickstarter since its induction, a whopping 334,679 have failed, but this isn't all doom and gloom. For the most part, projects fail to incite pledges because they aren't marketed well. Running a marketing giveaway is an effective approach to gaining vitality for your new crowdfunding product, it's a confident strategy to overcome a lack of awareness you may encounter with your new crowdfunding project.
Here's why you should consider a marketing giveaway for your next crowdfunding campaign;
What Is A Marketing Giveaway and How Can It Help?
Giveaways have stood to promote products for a considerable part of our existence. Whether it's a raffle for a meat platter at your local bar, a  lottery for a pair of Air Jordans at a sneaker store, or a giveaway of a $2,000 PC, these kinds of giveaways are everywhere. You don't need a marketing degree to understand it.
Traditional giveaways require a piece of information (like a phone number or email) in exchange for an entry. Virtual giveaways often ask that entrants follow several steps with every action earning them extra entries into the giveaway. Depending on the nature of your campaign, here are some entrant possibilities:
Sign up to our mailing list for updates on our product +5
Follow us on Twitter +1 
Follow us on Instagram +1
Follow us on Facebook +1
Subscribe to our Youtube Page +2
Watch our introduction video +3
Share our campaign with your friends +5
Complete everything above +10
But how many email subscribers will I end up with post giveaway?
That ratio greatly depends on the prize you are offering. Higher price-point prizes often gain more viral shares. Plus, it's a domino effect if your product is cool and ingenious.
How to Set Up a Contest
It has never been easier to make your own sweepstakes. There are entire ventures, like Gleam.io, KingSumo ,and Rafflecopter, dedicated to creating marketing giveaways for you, while broader sites like Gadget User, will set up full-fledged marketing giveaways and use their existing and enormous audience to bolster the giveaway for your campaign. You'll receive extraordinary engagement with their educational-based marketing campaign, which nurtures the opt-in subscribers from your giveaway and pierces them across multiple touch points across their platform. They don't just run the giveaway, they make it viral.
Why are Giveaways Effective an Effective Marketing Strategy?
Whether you create a gleam giveaway, use the same base idea to create a post on Facebook, or make your own sweepstake, it will likely benefit your crowdfunding campaign because it introduces an audience to your product that wouldn't see it otherwise. A grandma who wouldn't even know what 'streaming' is, isn't going to accidentally find her way onto a streamer's Twitch channel, where they are advertising their sponsors. Similarly, someone who has never heard of a website like Kickstarter and has a minor knowledge of crowdfunding isn't going to be scouring sweepstakes companies for the latest and greatest crowdfunding innovations.
Marketing giveaways are effective because there is a telling propensity in people who will unwittingly find your giveaway. Whether a friend has shared it on Facebook, they find it on Twitter, or it pops up on a site they use regularly, it will fall into the right individuals laps. 
People like free specialties. If all they have to do for the chance at a massive prize is retweet something or sign up to your email list, a high ratio will do it. That is the key to marketing giveaways' effectiveness. Initiated contestants will be on your mailing list for a stretch of your brand's existence (depending on the frequency of emails you send). Examples of email themes to entice and nurture your subscribers could be benefits and drawbacks of your product, common product objections, or seasonal discount offers. You can even include winner announcement emails with discount codes to drive conversions.
Just make sure it all is enticing and authentic. 
This article is a guest post and the content provided comes from a third party. Kickbooster cannot confirm the accuracy of the above content and the author of any post presented on this site is responsible for obtaining all necessary permissions for publication.
Patrick Castellano is an Entrepreneur and founder of Gadget User- the world's leading gadget discovery platform. He's also a Contributor at Art of the Kickstart, Hyperstarter and Kickstarter.