How the "World's Most Crowdfunded Active Company" Markets Their Kickstarter Campaigns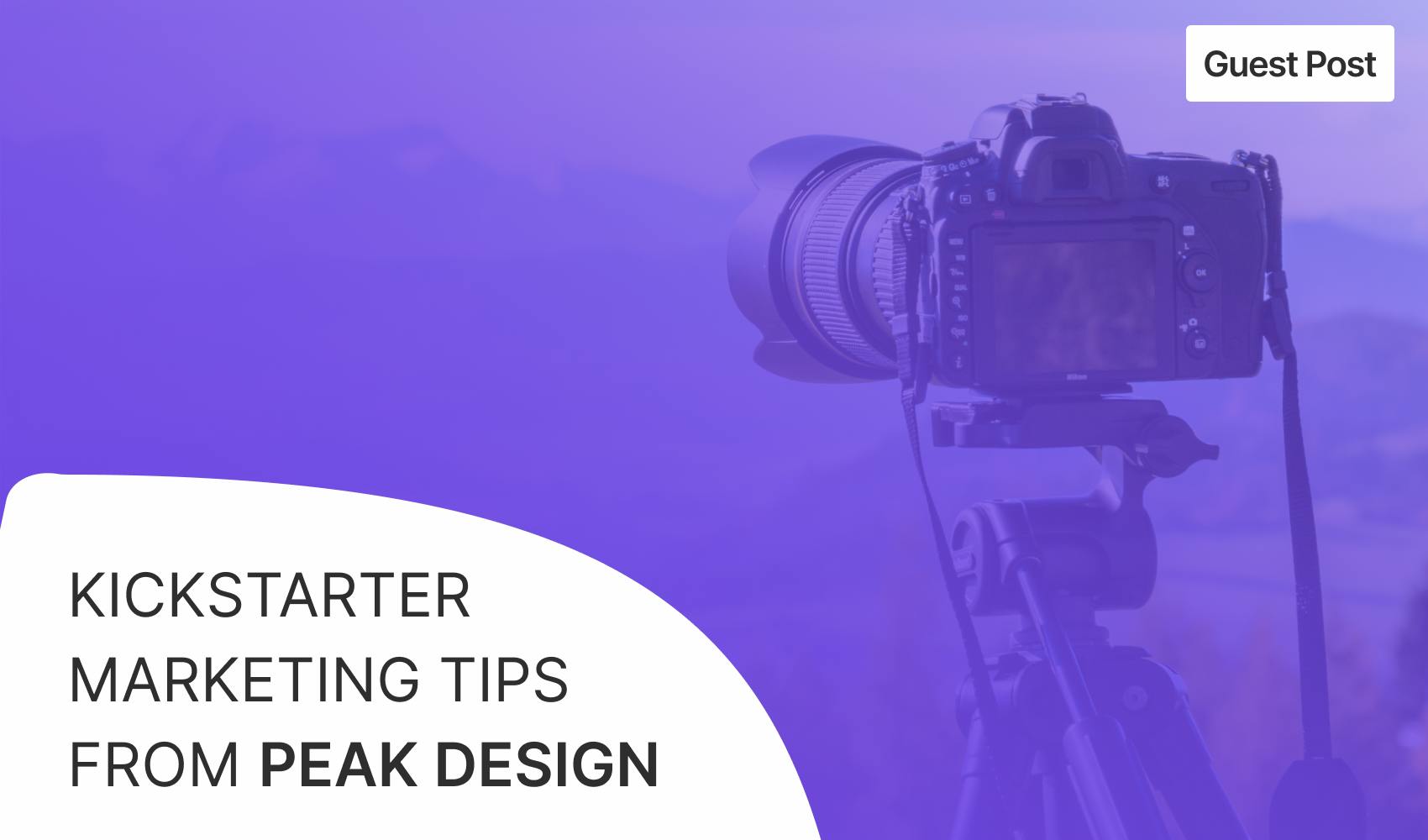 12 million. TWELVE MILLION!!! Well, $12,143,435 to be exact.
That's how much Peak Design raised in their latest Kickstarter campaign, making it the 5th most funded Kickstarter campaign EVER, and making Peak Design the most crowdfunded company that is still operating today. 
Peak Design was founded by Minnesota-born Peter Dering, after experiencing the pain of carrying around a DSLR camera firsthand during a 4-month trip around the world. When Dering returned from his trip, he quit his day job and spent the next 10 months designing a solution for his camera problem. In May 2011, Dering launched a Kickstarter campaign for his first creation: Capture. The campaign was successful, and Peak Design was born. The company now has over 30 full-time employees, and has launched 9 Kickstarter campaigns to date. 
We spoke with Elish Patel, Peak Design's Digital Marketer, to learn what tools and strategies the team uses to drive the company's massive Kickstarter success. 
Elish joined the Peak Design team about 5 years ago, and has been present for 6 of the 9 Kickstarter campaigns. Since joining the team, Elish has been responsible for the company's digital marketing and growth. He seeks opportunities to spread the company's voice to a wider audience, while finding ways to engage with the existing audience. He also manages the company's partnerships and influencer relationships. 
Elish walked us through Peak Design's typical process for launching a Kickstarter, and shared some of the tools and tactics they use.
Getting Started 
We asked Elish what the next steps are after Peak Design decides they are going to launch a Kickstarter campaign.
Create the project's messaging
According to Elish, the team starts by tackling the project's messaging. Adam Saraceno, Peak Design's Head of Marketing, is responsible for guiding the brand voice and writing. The campaign messaging and the way the project is positioned is driven by the answers to 3 important questions, which are discussed by the team:
Who did we make this for?
Why did we make this?
What's it all about? 
These questions influence the direction and delivery of the project's communication, which is then outlined in the project's messaging brief. The brief helps the whole team better understand and recognize who the product is for, the pain points for this group of people (what makes them tick?), and assists in constructing a clear and consistent message on exactly how the product will solve the problem(s) that the group experiences. 
Your project's messaging should be clear, concrete, persuasive, and effective in building trust with your prospective backers. 
Here's a great article by Fundbeam about how you should write and structure your Kickstarter page.

Create a video and photo shot list
The next critical campaign element that the team focuses on is the visual content. Words are important, but the photography and videography speak volumes about the product! 
Lawrence Lander, Peak Design's Creative Director, is responsible for the company's visual assets like the photography and overall brand identity. He and his team work to prepare a shot list to make sure they have all the content they need to visually explain and promote the project. Beautiful photos and videos are important for any project, but especially so for one crowdfunding camera gear! 
Build a list of key contacts
The final item that the team checks off the list when ramping up is their list of contacts. You can spend all the time and resources in the world on creating a beautiful Kickstarter page that sells your product, but it won't do you any good if no one sees it! This critical component is one of the first things the team tackles because building a list takes time. Elish recommends starting months before your campaign is set to launch.
Create a landing page with information about your project and capture email addresses so you can let your audience know when your campaign is live! 
Education and preparation
The team at Peak Design has a ton of experience when it comes to launching a Kickstarter, but there is always room to learn and grow. We asked Elish if there are any other resources he taps into to educate himself and the team, and better prepare for launch. 
Elish says he and the team lean on external partners like Jellop to help support their advertising efforts. He always reaches out to other campaigns for feedback on ideas, and uses them as inspiration.
He noted that marketing a Kickstarter project really isn't all that different from any other marketing campaign, so he can apply the same principles. 
And of course, like everyone and their grandpa these days, he relies on Google to help fill any gaps in knowledge and provide an immediate response to questions as they pop up. 
Digital tools
Peak Design used a variety of digital tools for marketing, advertising, and analytics reporting throughout their campaign. Here are a few of the key resources:
1. Facebook & Instagram ads
You can configure and serve ads to both Facebook and Instagram users through the same, easy-to-use Ads Manager. Facebook ads are great, because they can be as simple or sophisticated as you need them to be. With more than 2 billion active monthly users, your chance of finding your desired target audience is high. When serving ads through Facebook, it is important to make sure you're targeting the right kind of people. While targeting groups of people who are interested in your industry or even competing products is sure to garner some interest, you should also make sure you filter your targeting to those who have been exposed to crowdfunding platforms like Kickstarter in the past. Crowdfunding is very different from eCommerce, and may be intimidating to those who do not have experience in it. Improve your chances of achieving a higher conversion rate on your ads by targeting those who are familiar with the crowdfunding model and are interested in your industry or offering. 
This step-by-step guide walks you through setting up your first Facebook/Instagram ad, and provides some helpful tips along the way!  
2. Email marketing
Email marketing is a critical component of almost every successful Kickstarter campaign, and should be prepared weeks, if not months, before the campaign is set to go live. 
Successful crowdfunders begin creating hype around their project and building a list of email contacts far in advance of their campaign's launch date. 
Set up a landing page to provide an overview of your product with some teaser content (like photos or videos of your prototype), and include a form to allow your page visitors to opt into receiving email communication from you. This way you already have an army of people that have expressed interest in your project and are likely to back your campaign when you're ready to launch. The more interest and activity you can drum up during the first few hours of your campaign, the more likely you are to reach your funding goal. Statistics show campaigns that raise at least 30% of their goal in the first week are far more likely to succeed (source). 
Use Kickbooster's Pre-Launch tool to set up a landing page for your campaign in minutes, and start collecting email addresses. 
3. Drip campaign on website
A great way to improve the organization of your email marketing and to make each message more intentional is through a drip marketing campaign. Drip marketing is a communication strategy that sends pre-composed messages to prospects, leads, or customers over a period of time. 
These messages are written in advance and deployed when a user meets certain conditions or activates triggers through behaviours like visiting a specific page on your website, watching a video, or reading a blog post. The series of messages is often intended to push the user along some pipeline and toward an end goal— usually to make a purchase, sign up, pledge, etc. 
Tools like Active Campaign make email automation simple and allow you to create personalized message flows and conditions based on a wide range of scenarios. A single email can have an array of triggers and responses based on whether or not the recipient opened the email, clicked a link, forwarded it on, and more. 
4. YouTube reviews (earned & sponsored)
YouTube is filled with influencers dominating their chosen niche. Reaching out and establishing relationships with video content creators in your industry is a fantastic way to get your project in front of an engaged audience. 
If you have a physical product or something they can experience, it is good practice to arrange to send a sample or allow the creator to trial your project. This marketing tactic should be considered and executed weeks to months before your campaign launches to give the content creators time to test out your product and create content around it to share with their audience.
While some creators may be willing to promote your project free of charge or in exchange for a free sample, many creators are looking for ways to monetize their content. Offering a commission on any pledges or sales they help you generate through their content is a great way to provide an incentive for these creators to work with you to produce quality content that will help sell your product. This marketing tactic is called affiliate marketing, and can be managed through tools like Kickbooster. 
5. Kickbooster's referral marketing tool
Kickbooster's referral marketing tool is the first of its kind in the crowdfunding industry. Made specifically for crowdfunders, the referral marketing tool provides one central place to manage your affiliate, referral, and influencer networks. 
Referral marketing is one of the most cost-effective ways to promote your project. Unlike most traditional or digital advertising methods that charge per impression or per click, referral marketing is performance-based and only charges a percentage of each confirmed sale, which is paid out to the referrer of the sale.  
As the crowdfunding campaign owner, you can create a referral marketing program with Kickbooster to offer a commission rate to your affiliates for any pledges they help you acquire. This commission rate is entirely up to you, and can be unique to each affiliate. For example, you may want to offer a 15% commission rate to content creators or influencers, and a 5% commission rate to friends and family. Each of your affiliates will receive a unique tracking link that they can use to help promote your project. When their link is clicked and results in a validated pledge, they'll receive a commission payout in your predetermined amount. 
Below is an example of an affiliate link used by Atola Visuals during the Peak Design Travel Tripod campaign.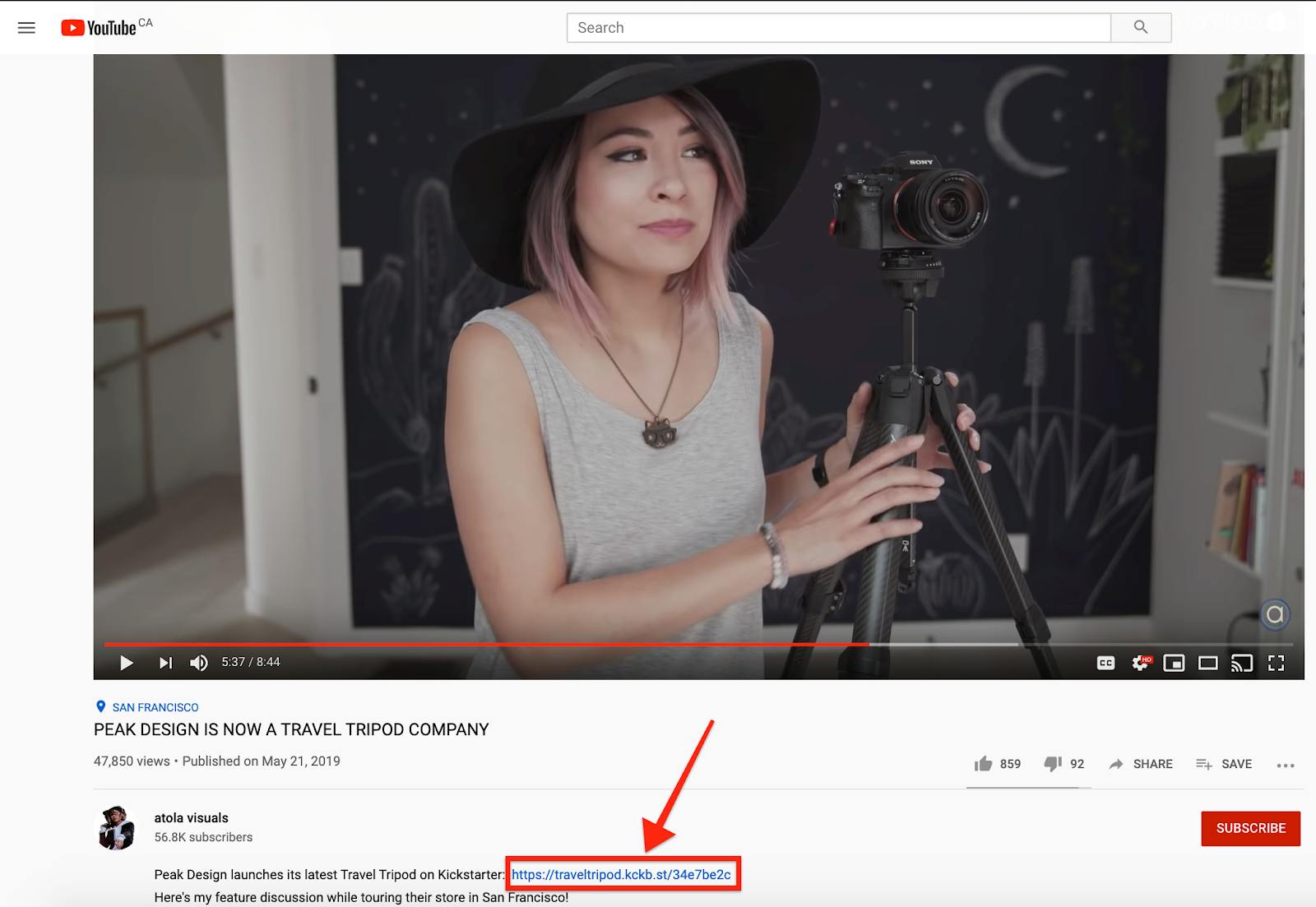 You can set up your Kickbooster referral program as soon as you have a preview URL available through Kickstarter or Indiegogo. 
6. Google Ads
Google Ads offers endless opportunities to show advertisements in multiple formats across the web. With Google Ads, you can create keyword-based campaigns to ensure you show up in Google Search results when people search for what you offer. Google Ads also has a network of advertising partners that will allow you to purchase advertising placements on their website, coordinated through your Google Ads account. This enables you to put pre-roll video ads in articles or before relevant YouTube videos, banner ads on industry websites, pop-up ads in games or apps, and more! 
All you need to get started with Google Ads is a Google email address and a valid website, landing page, or campaign URL to direct traffic to. 
7. Google Analytics
Another excellent Google tool you should use for your campaign to track your marketing efforts is Google Analytics. Google Analytics can provide an extensive breakdown of the traffic you see on your campaign page. Through the Google Analytics dashboard, you'll be able to see data on where your traffic is coming from, how long they're spending on your page, how many times they visit your page, how well they're converting from visitors to backers, and much more. 
Here's a great guide from Launch Boom to help you connect Google Analytics with your Kickstarter page. 
8. Kickstarter Dashboard
Kickstarter also offers their own analytics dashboard that provides detailed reporting on your campaign's progress. Within the dashboard you'll see an easy-to-read graph displaying your project's funding progress, information on the average size of your pledges and where they are coming from, referral traffic to your page, interaction with media on your page, and more. 
The team at Peak Design also released a "tools of the trade" list on their own website, highlighting some of the tools they use right from designing the product, to promoting it, and finally, to fulfillment. 
Measuring success
It's no secret that Peak Design's campaign was hugely successful, raising their initial goal of $500,000 in the first hour and going on to raise 2,429% of this goal with the help of over 27,000 backers throughout the entire course of the campaign. 
According to Elish, the company saw the greatest return on their advertising spend through Facebook ads. The amount they spent on various advertising placements through the social media platform was far exceeded by the number of pledges they saw as a direct result of their advertisements. 
Peak Design's influencer and affiliate strategy also had a huge impact on the campaign. Over 1.1 million dollars came directly through Kickbooster affiliate links— roughly 10% of the total amount raised. Peak Design offered multiple commission rates for the general public and VIP affiliates. A portion of Peak Design's affiliates for the Travel Tripod campaign had participated in a referral marketing program with them in the past, but an invitation to participate in the program was also shared in the project updates on Kickstarter to keep the momentum going throughout the campaign, as well as on their Facebook page and through email marketing.
Elish shared that he actively recommends Kickbooster to those looking to launch a crowdfunding campaign and set up an affiliate marketing program. 
Key takeaways
Becoming the 5th most funded Kickstarter campaign to date is no easy feat. The entire Peak Design team worked tirelessly for months preparing for their campaign— and the work certainly didn't stop when the campaign went live. The Kickstarter campaign required constant attention from the customer service team who were answering questions day and night, work from the marketing team to keep the momentum going throughout the campaign, and of course, work from other members of the team to prepare for fulfillment of the product.
There are a few key takeaways from Peak Design's Kickstarter experience that are worth reiterating. 
1. Kickstarter is not a typical eCommerce site. Convincing someone to buy your product is one thing, but convincing someone to buy a concept of a product is a much bigger challenge. Crowdfunding, especially for higher-ticket items, is not for the risk-averse. While companies like Peak Design may have an outstanding track record of following through on what they promise, those who are not familiar with the concept of crowdfunding are far less likely to convert. Focus your marketing dollars on people who are acclimated to the crowdfunding model, or partner with influencers to gain credibility with their audience. 
2. A strong start makes for a strong campaign. Set yourself up for success by being prepared. START EARLY, nail down your messaging, build up your army of advocates, and be ready to hit the ground running on launch day. Great Kickstarter campaigns don't happen overnight— they take months of hard work and preparation to be successful. 
3. Working with the right people makes all the difference. It's not about how many people you have promoting your campaign, it's who you have that counts. A handful of media partners and industry-appropriate influencers can have a greater impact and louder voice than hundreds of everyday consumers. Instead of focusing time and energy on getting everyone to participate in your referral program, allocate your resources to finding the right people. 
What's next for Peak Design
Peak Design is busy manufacturing the Travel Tripod while continuing to operate their eCommerce store and flagship store in San Francisco. The Travel Tripod is available for pre-order on their website. 
As for their next big Kickstarter project? Well, we'll have to wait and see!