Cross-Promoting Your Crowdfunding Campaign: Why It's A Goldmine For Creators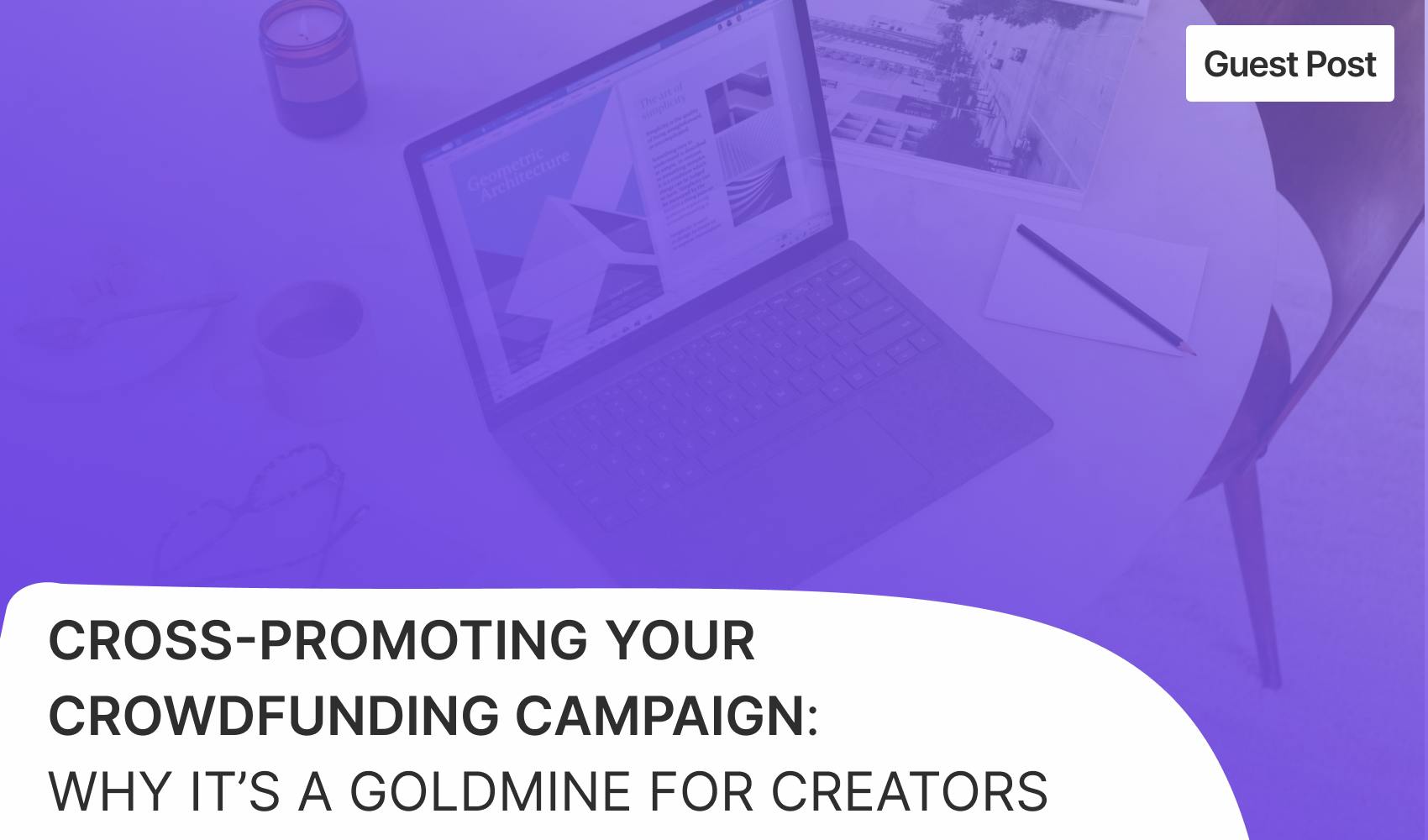 You have successfully launched your Kickstarter campaign. Congratulations!
Now it's time to spread the word. You can do this through various methods such as, advertising, public relations, and influencer marketing. However, there is one under-utilized channel that can be a true goldmine for crowdfunders – we're referring to cross-promotions.
What is Crowdfunding Cross-Promotion?  
Crowdfunding cross-promotion is a marketing activity where related projects promote each other in their backers' updates, giving both exposure to relevant audiences.
There are two main things to know about cross-promos:
They involve at least two campaigns.  
They are always reciprocal. We share your campaign and you share ours. 
Why is Cross-Promotion a Goldmine?
Unlike other promotional channels, cross-promotion works directly with the backer audiences. They already know what crowdfunding and backing is, which will save you tons of time and resources on converting them.
Let the numbers speak.
On average, the conversion rate of a single cross-promotion is 8%. To compare, average conversion rates for crowdfunding campaigns are around 3%. Depending on the campaign, the revenue per update might vary from $2000 to $7000.

The images below show the cross-promotion results for several prominent campaigns.
The zlight and Cubbit campaign:

Two week cross-promotion campaign for Winston.

UVMask cross-promotions campaign:

And finally, the most successful cross-promotions campaign we've witnessed is the Pico campaign:

These numbers are quite convincing, aren't they?
How to Set Up Your Cross-Promotion Campaign?
The first step in setting up your cross-promotion campaign is creating your update schedule.
Plan ahead so know when you are going to post your backer updates and what information you are sharing. This is where the cross-promotion will take place. Updates you post on Kickstarter are sent directly to backers' inboxes.
The second step includes finding the perfect match for your campaign (more on this below). Get in touch and agree on your cross-promoting schedule.
And finally promote each other in your backers' updates. Take a look at the example of a cross-promotion in the update: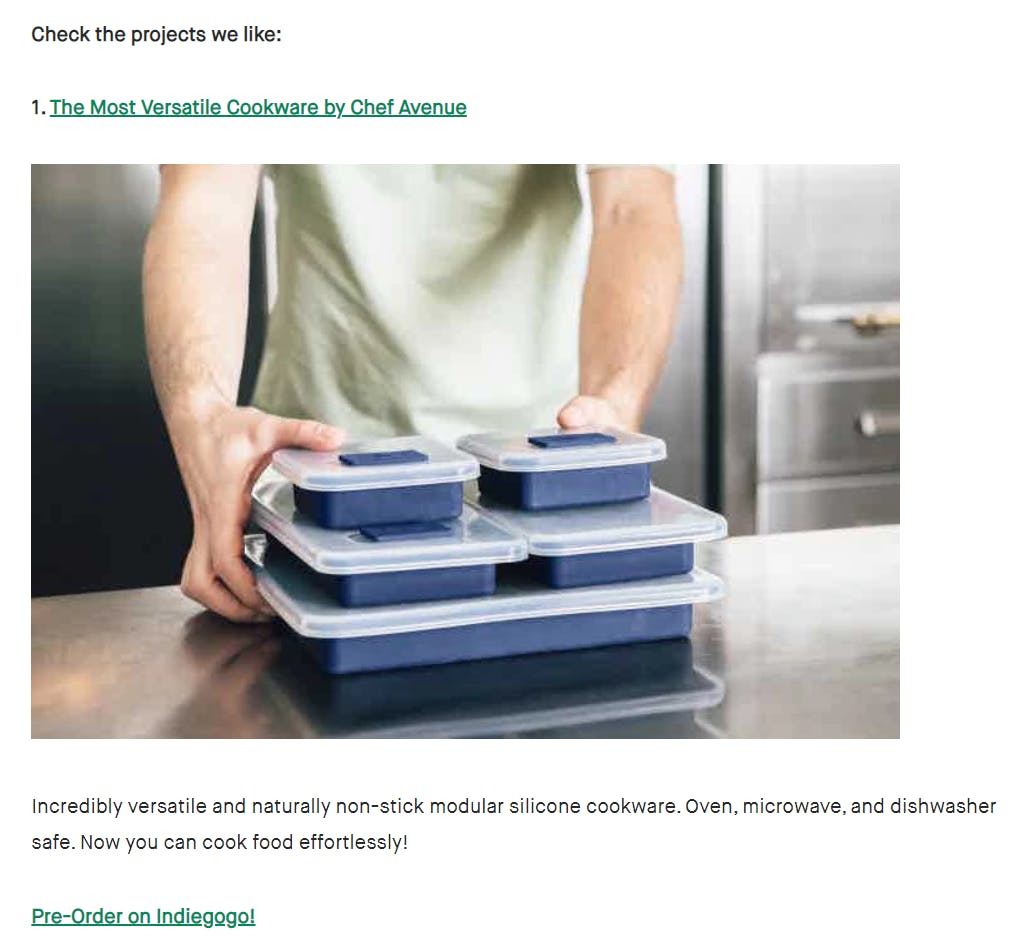 Cross-Promotion Best Practices
Find the Perfect Match
When it comes to finding your perfect cross-promo match, focus on two main criteria:
Category match
Do your products substitute each other? If they do, don't cross-promote, you don't want competition.
Do the products complement each other? If they do, they are a perfect match.
Are the products from the same category (i.e. product design, tech etc)? If they are, you definitely need to cross-promote.

Number of backers
Cross-promotion is all about fair play and giving each other equal benefit – that benefit is an exposure to one another's backer audience. It's ideal to have a similar number of backers with your partners so one person isn't benefiting more than the other. 
Post Updates
For your cross-promotions to be effective, it is recommended to post a maximum of three other campaigns per update. You don't want to overwhelm your backers with a huge list of campaigns because it may come across as spammy and could lead to pledge cancellations. 
It's also important to consider your partners' benefit. They should get traffic from your updates, so posting more than three campaigns decreases the chances of the campaigns lower on the list getting traffic and conversions. 
If your campaign has 45 days to go, we recommend scheduling at least eight updates and twenty four cross-promotions. 
Setting Up Your Cross-Promotions in a Couple of Clicks
You can set up your cross-promotions in minutes, here's how! 
CrossProm.com offers a full-cycle automation for cross-promotion management, from finding your match to receiving notifications about being mentioned in an update.
Find your best match in one scroll
Once you have registered, you will see a grid of campaigns that are ready for cross-promotions. Identify your best match in just one scroll by viewing the number of backers and product categories directly on the campaign card.

Secure a specific date and spot for your campaign to be posted
When you click the "Request CrossProm" button it will open a popup where you can choose a specific date and spot for your update. This way you know for sure when your campaign will be posted and your place in the update newsletter. No more going back and forth emailing over the date and spot.

Manage your cross-promotions request from a single dashboard
You can view all your received and sent requests in a single dashboard. Confirm or decline the request, send a message if necessary.

Follow through on your updates schedule and campaigns to be posted

It is in this dashboard where you can view all your "to do's" regarding your updates and upcoming cross-promotions. 

5. Find cross-promotional materials compiled and ready to be posted in the update section
Under the "Post Crossprom" button you'll find all the cross-promotional materials to be posted in your update.

6. Get notified when your campaign is mentioned in an update
CrossProm will provide you with a unique trackable link so you can track when your campaign is being talked about and receive notifications about any posts.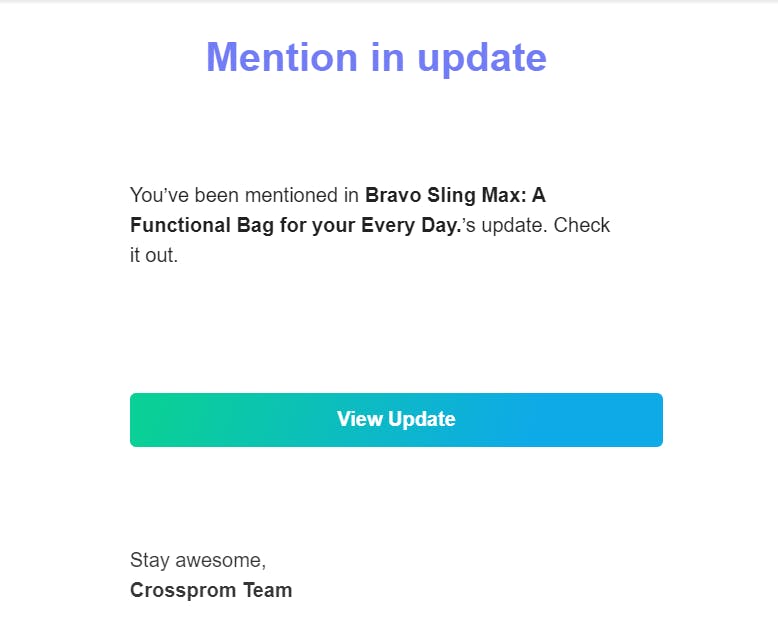 7. Track the results of each cross-promotion 
As mentioned previously, CrossProm provides a unique referral link. When posted, it allows you to track the results of every single cross-promotion. This will help you understand what audiences work best for you and what products to cross-promote with in the future.

Here's how you'll see it in Google Analytics:


And this is how you'll be seeing it in your Kickstarter dashboard:


To sum it all up, cross-promotion will give you exposure and put you in front of your backers' audience. Follow the best practices of cross-promotions and you'll see the best results for your campaign. 
Sign up for CrossProm today to automate your cross-promotions, save time, and drive quality traffic to your page. 

Boost your campaign with the power of the crowdfunding community.
CrossProm is a software that brings together creators across the globe to build a strong crowdfunding community and help each other succeed.