5 Reasons Why Crowdfunding Is Perfect For Affiliate Marketers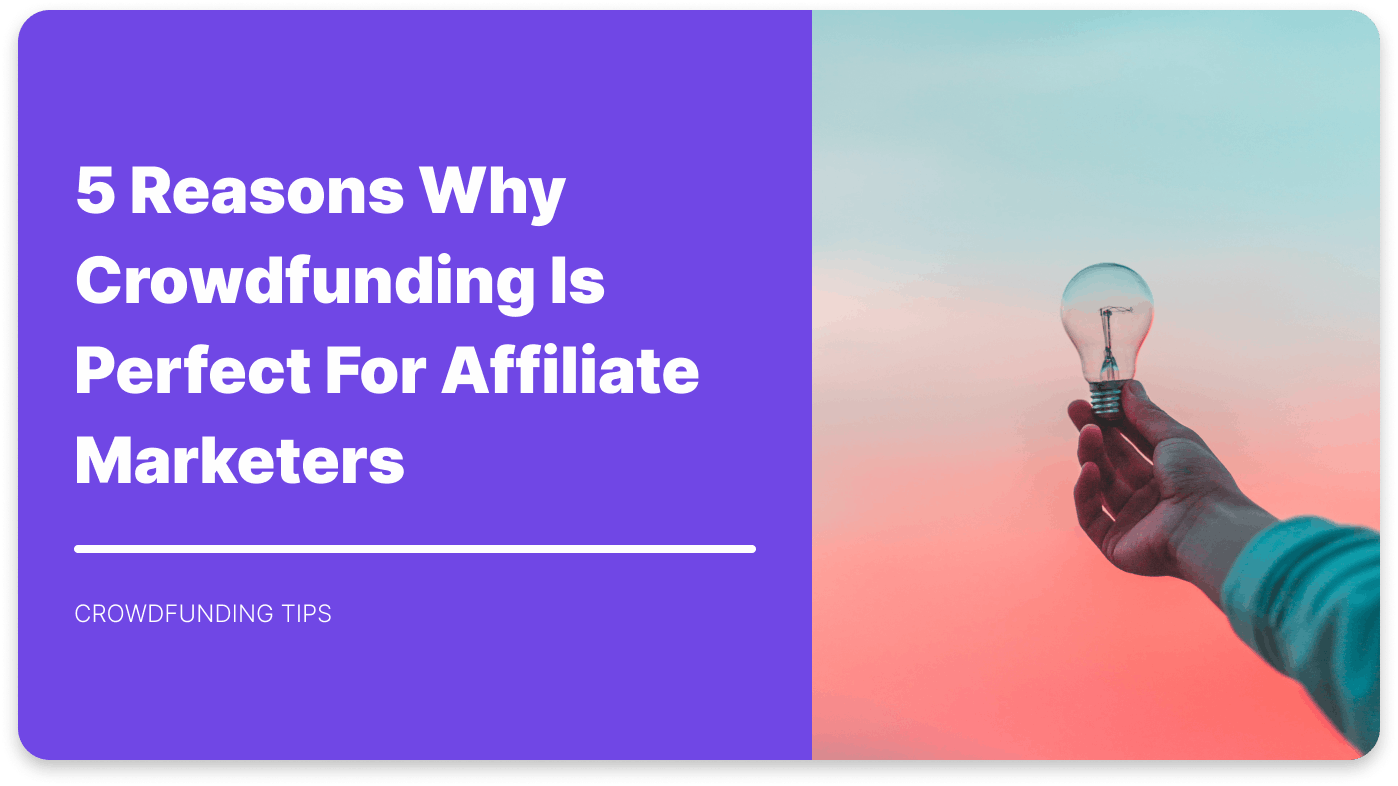 Being an affiliate/influencer is a great way to make money promoting products you love. But, did you know there's a very exciting opportunity for you to grow your personal brand, and earn even more, through rewards-based crowdfunding?
Here at Kickbooster, we see affiliates/influencers (who we refer to as 'boosters') find success earning commissions by promoting exciting Kickstarter and Indiegogo crowdfunding campaigns everyday. 
If you're thinking of taking a dive into the crowdfunding pond, check out these 5 things every affiliate/influencer should know about crowdfunding first. 
1. Promote Innovative Products
As an influencer, people look to you for recommendations based on your niche, so why not promote innovative products that are different from every other affiliate out there? Crowdfunding is filled with new ideas, which is why we love it.  
Explore product after product that will make you say, "why didn't I think of that?" Take for instance, AirHood – The World's First Portable Range Hood, or the LITO Case – a fully foldable suitcase, or even the GillyGro: A Sleek Backpack with Built-in High Chair. There's something for everyone in the crowdfunding space and with so many great ideas out there, it's easy for you as an affiliate to find something cool to get behind. 
Pro tip: An easy way to find projects you're interested in, that also have affiliate marketing programs, is by visiting the Kickbooster Marketplace. Here you can find out how much funding each project has already received (more on that to come) and what each campaign's commission offering is. 

2. If Your Audience Are Early Adopters, Crowdfunding Is For You
If your followers like to be the first to know about new products or ideas that haven't even hit the market yet, then crowdfunding is perfect for you. Whether it's tech, fashion, home goods, or games, there's something for everyone! 
One of the benefits of crowdfunding for backers is that they can get their hands on items that the general public can't. Although patience is a requirement when it comes to crowdfunding (oftentimes it takes some time to receive the final product), it pays off when you can say you knew about a cool gadget or piece of hiking gear before the rest of the world, and you got it for less than retail by being an early backer.
As a Kickbooster affiliate, you have the chance to present your audience with exclusive products at the ground level and earn a commission from every successful pledge. 
Pro Tip: Your audience may not be familiar with how crowdfunding works so be sure to provide them with a little crash course before promoting your first crowdfunding campaign. Once they know that it's legitimate and how it all works, they're more likely to buy into what you're selling. 
3. Crowdfunding Is In A Good Place
Let's be honest, crowdfunding has gone through a few ups and downs to get to where it is today. The good news? Crowdfunding is in the best place it's ever been. According to Forbes the crowdfunding market is expected to grow to $300 billion by 2025. 
Kickstarter reported that nearly 3.2 million people pledged more than $800 million to Kickstarter creators in 2021. 2021 also marked the highest funding success rate in Kickstarter's history, with 54% of projects reaching their funding goal.The crowdfunding industry is trending upwards and the data shows that more entrepreneurs are recognizing the benefits and throwing their hat in the ring. Statista predicts that the total number of crowdfunding campaigns per year is expected to hit 12 million by 2023.
A lot of exciting stuff has been happening in the rewards based crowdfunding space recently. 2022 saw the highest-funded Kickstarter campaign ever! Brandon Sanderson was asking for $1 million to publish three books he wrote during the pandemic. He exceeded that goal by raising $20.8 million from over 84,000 backers in just three days!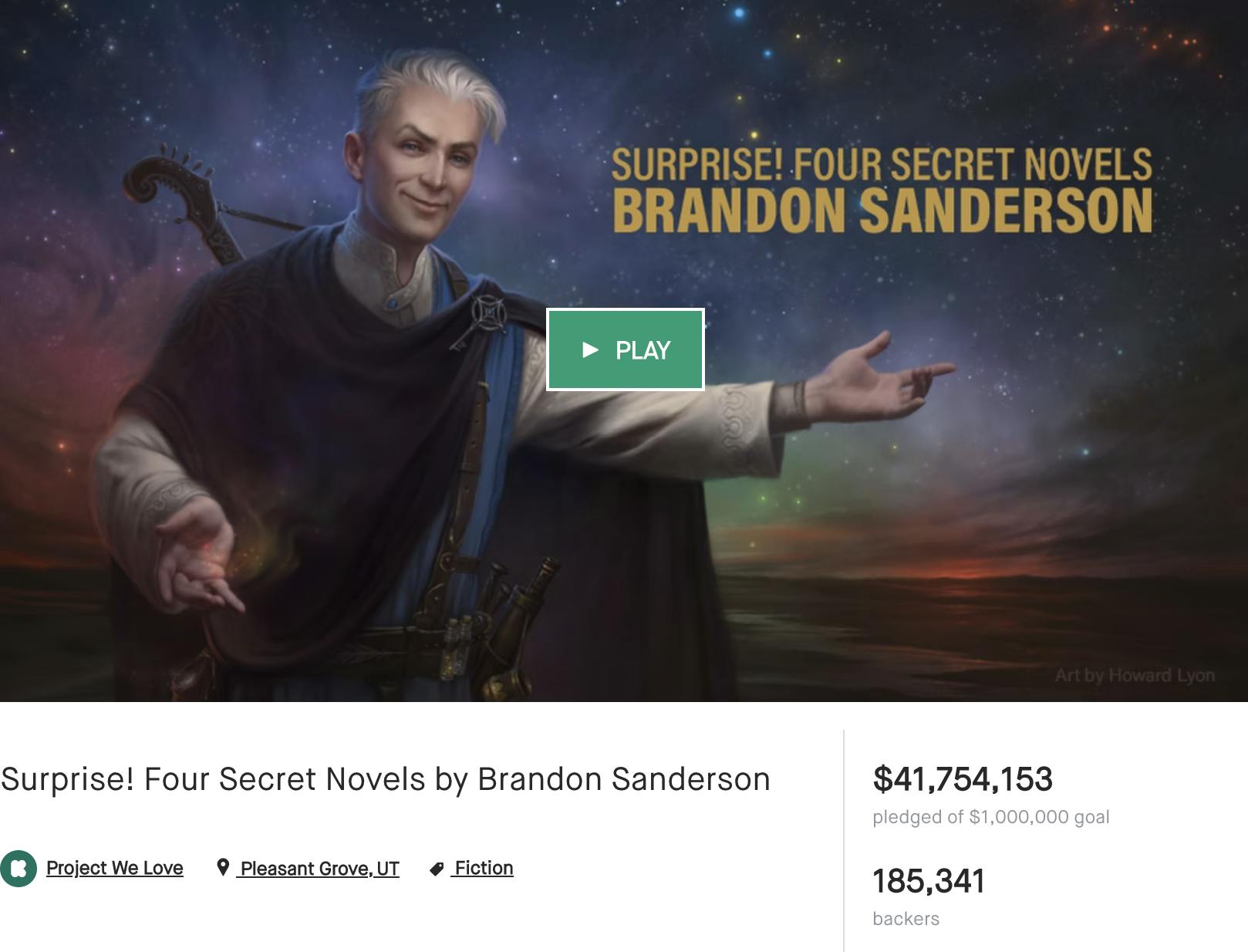 Indiegogo recently welcomed their new CEO, Becky Center in April 2022. Becky brings a fresh perspective to Indiegogo and generated a lot of positive buzz when she stepped into the role. 
Kickstarter also recently had a big change to their leadership team and in April 2022, Aziz Hasan stepped down from his role as CEO. Although these changes are big for both companies, the crowdfunding industry has never been in a better place. With fresh leadership, new ideas, and campaigns still breaking records, we can't wait to see where crowdfunding will go in the future.
4. Mitigate Risk By Promoting Only Fully Funded Campaigns
Crowdfunding can be a gamble, but it doesn't have to be. With Kickbooster, affiliates only get paid if campaigns are successful, so reduce your risk by promoting only campaigns that are fully funded or campaigns that are close to reaching their goal early on in the campaign. 
Each campaign on Kickbooster's Marketplace shows how much has been raised for each campaign and how many days are left. This will give you a clear picture right away of what campaigns are lower risk to you as an affiliate.

You can also change your viewing settings to only see the most funded campaigns by clicking the "Most Funded (Crowdfunding Only)" button in the top left corner.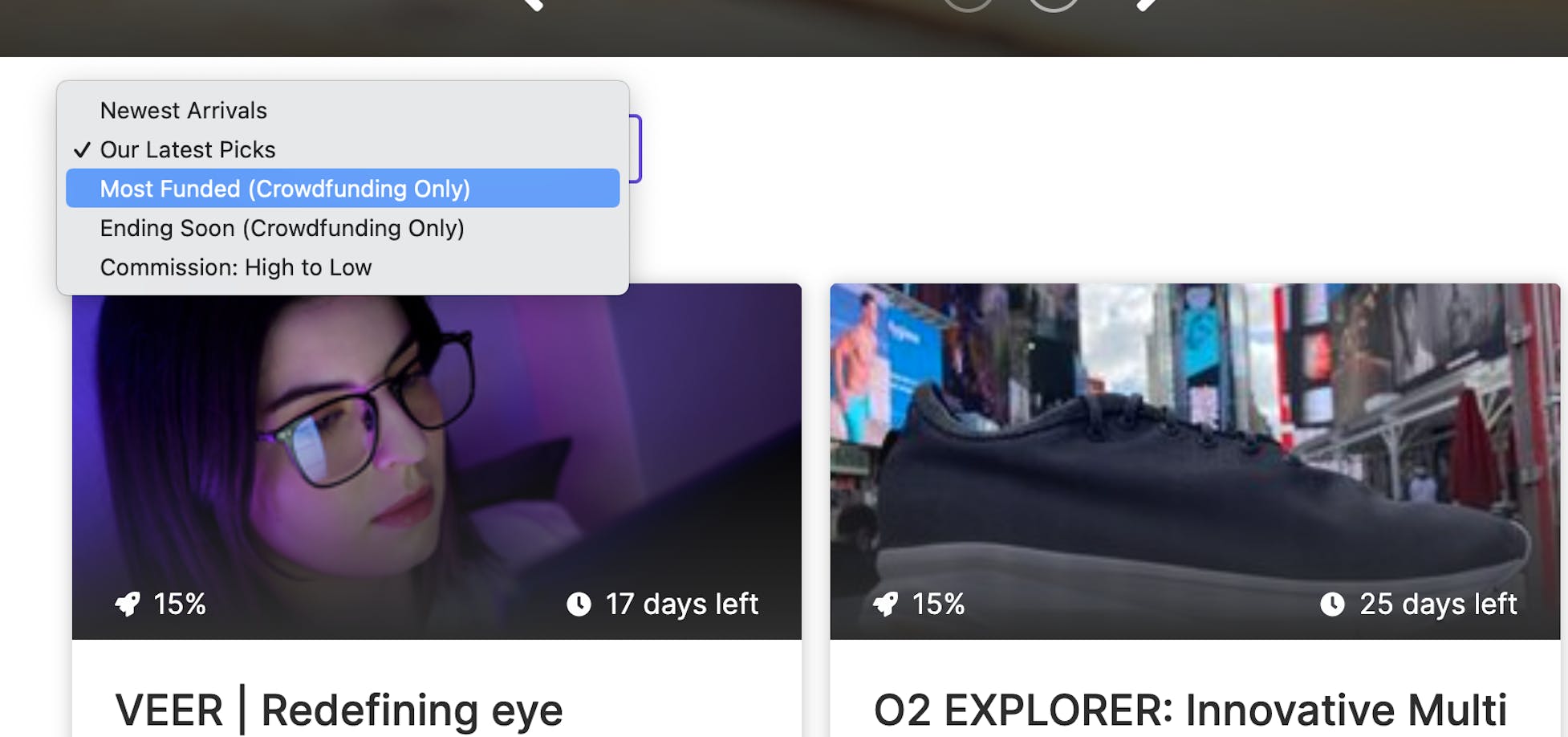 5. The Buck Doesn't Stop When The Campaign Is Over
Campaigns typically run between 30-60 days but the good news is that oftentimes if a campaign is doing well, it will move to Indiegogo InDemand or transition to ecommerce. 
InDemand is available to all successful campaigns on both Indiegogo and Kickstarter,  it allows creators to continue raising funds while growing their backer community after the campaign ends. If you boost a campaign during their crowdfunding stage and they transition to InDemand, all your affiliate links redirect to the InDemand page and referrals will continue to generate. 
Another common move for successful crowdfunding campaigns is to transition into ecommerce (they've validated their idea, now it's time to start selling to the general public). If they choose to continue running a referral marketing campaign for their Shopify store, you can continue earning more on a product that you're already familiar with and have been promoting since its inception. 
Pro Tip: If a creator chooses to run their referral program through Kickbooster, they can send a notification to all their crowdfunding affiliates informing them of their new ecommerce store. This is a great way to build relationships with merchants. 
For more information on how you can earn money by sharing awesome crowdfunding projects, click here.