How Kickbooster works for Affiliate Marketers
1. Signup Now
Click on the "Become a Booster" button below. It takes less than 2 minutes to sign up and it's completely free.
2. Select Campaigns
Browse through our marketplace of hundreds of campaigns to select the campaigns you want to Boost.
3. Spread the word
Share your custom Booster Links on social media, on your website, blog, etc. and watch the commission come in.
Earn commission on funds you help raise!
Become a Booster to gain immediate access to hundreds of crowdfunding campaigns that are offering a reward for helping spread the word about their campaign. Blog about cool campaigns, post links on Facebook, Tweet about them, and watch the dollars come in. The more you promote, the more you'll earn, and everything is tracked in your Kickbooster dashboard. The best part is that becoming a Booster is completely FREE.
Pick the campaigns that you'd like to promote
When you sign up with Kickbooster, you instantly gain access to boost all of the campaigns listed on our Marketplace page. You can easily see the reward each campaign is offering and how many days they have left.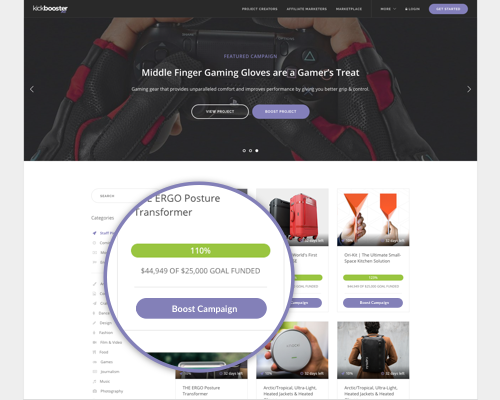 Manage everything with ease
Stay on top of your efforts using the easy-to-use dashboard. You will be able to track your clicks, pledges, and commissions owing. On top of all that, you will also be able to see where most of your traffic is coming from so you know where to focus your efforts.