Kickstarter Survey vs. Third-Party Pledge Manager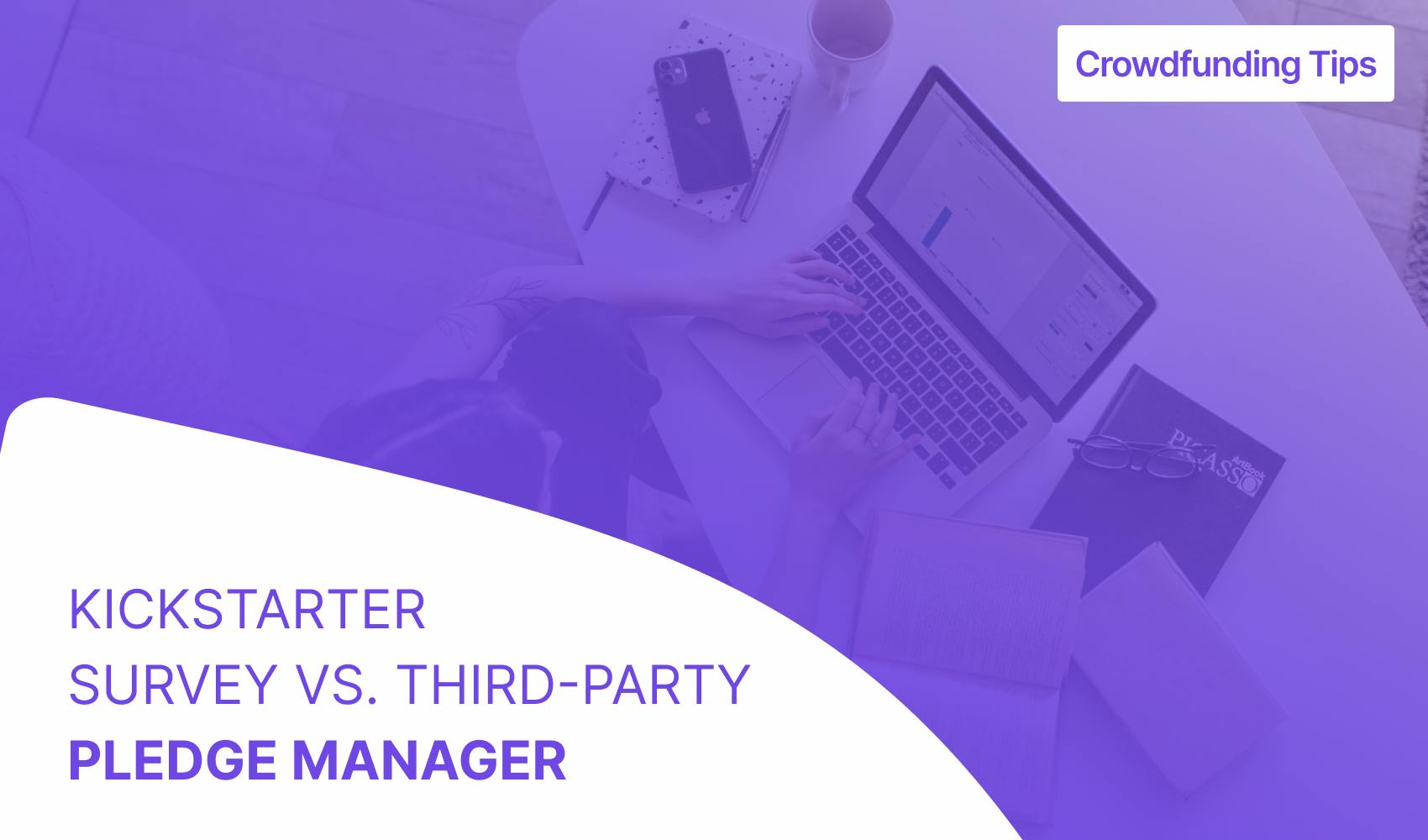 A lot more goes into a crowdfunding project than presenting an idea and collecting pledges. Once you've marketed a project and attracted enough backers to reach your funding goal, you still need to make sure every single one of them gets what you promised.
When it comes to managing pledges, platforms like Kickstarter provide surveys your backers can fill out to help you track what they pledged, record their reward choices, and collect shipping and payment information. But there are also third-party pledge managers that provide this service and bring additional benefits that can help make certain aspects easier and help you raise more funds.
This is especially true if you're setting up a complex project with more complicated rewards, or if you're wanting to sell add-ons to your backers.
For first-time projects with simple reward tiers, Kickstarter's survey will probably be good enough to serve all your needs, but once you start offering more complicated tiers, a pledge manager will do wonders for keeping you organized, plus, it can help you build up relationships with your backers so you can get them to make bigger pledges for better rewards.
Pros of Kickstarter's survey
Kickstarter's native survey is often enough for simple projects. Here's a brief breakdown of its functionality.
Collect basic backer info
With Kickstarter's built-in survey, you can collect shipping and payment information plus basic product details like color and size. Often, this is enough for basic projects without lots of add-ons or complicated rewards.  
Simple set up and use
Kickstarter's survey is very simple and often takes just a few clicks for backers and creators alike to complete. With that said, the time you put into creating surveys with a pledge manager can often save you a lot of time and add value in the long run. 
Cons of Kickstarter's survey
Tracking add-ons
With Kickstarter's survey, it's difficult for backers to see whether or not they pledged for certain add-ons during the campaign. This can complicate fulfillment, frustrate backers when they don't get something they think they paid for, and cause you to spend a bunch of time following up and verifying orders. There is also no way to alert backers if they haven't calculated their pledge correctly for add-ons and shipping.
Limited editing and flexibility
Another complication is that creators can't make survey questions optional, so backers are forced to give some kind of a response — even if it's not relevant. This creates room for confusion. 
Lack of functionality/features
The survey is designed to collect information about the pledges backers made during the live campaign, not to encourage them to pledge more. This has its own pros and cons. It may make for a quicker survey, but it doesn't give the backer the chance to upgrade their pledge or add on any items that they may have missed out on during the campaign.
You also can't adjust shipping costs from the estimated cost you made during the campaign, or edit survey responses, which can cause more complications down the line as well. 
But again, Kickstarter's survey is simpler for both creators and backers because Kickstarter already has their address and payment information. Often, this allows backers to confirm their pledge in a single click. They also know where to look to find their survey data, since it's all linked to their Kickstarter account. For creators, all this information is available right from their Kickstarter account.
Pros of third-party pledge managers
Third party-pledge managers help you execute your post-campaign operations more effectively and build on relationships with your backers. Here are some of the benefits of using a third-party pledge manager for your project.
Manage pledges and rewards for complex projects
With third-party pledge managers, it's easier to ensure people have pledged the right amount for everything they want from a certain reward tier. This can also allow you to keep reward tiers simple during the campaign and then get into the details of add-ons and options afterward.
Charge exact amount for shipping
If a backer didn't pay the correct amount for shipping with their pledge (because of the tier amount and their location), you can charge them the amount they owe or give them credit for the excess payment. This is especially helpful if you have backers who've moved.
Easier for backers to manage
A pledge manager can show backers exactly what they paid for when they originally pledged. Since many backers might have pledged weeks or even months before the fulfillment date, it's not uncommon for them to need a refresher. Having a record of their pledge transaction can prevent confusion, like backers saying they did or didn't get everything they signed up for.
Pledge managers also give backers the ability to edit their address (until the survey is locked by the creator). Plus, they can obtain digital rewards more easily without having to constantly check their backer updates.
Raise more funds
A pledge manager can make it easier for you to contact backers and offer them add-on items or up-sell them to a higher reward tier. This can help you raise even more funds after your campaign ends and build up relationships with backers. 
Since all of your backers (even the ones that pledged without a reward) get synced into the pledge manager, you have the opportunity to encourage them to upgrade to a higher tier or add on additional rewards.
Create a backer list for future products and projects
You can give backers the option to opt into future email marketing communications during your survey so you can contact them about other products, and even future crowdfunding projects they might be interested in.
Pull products in from an existing store
If you already have an eCommerce store and some of your rewards include products that are in its inventory, you can use Kickbooster's Pledge Manager to connect to your store. So when a backer makes a pledge, an order is automatically created as though the backer just made a purchase directly through your store. This allows creators to manage fulfillment in one place, taking advantage of their existing eCommerce fulfillment partners and settings.
Cons of third-party pledge managers
Additional Cost
Third-party pledge managers do come at an additional cost. That being said, the return on investment can usually cover those fees and then some. Without it, you can't up-sell backers. Plus, pledge managers can save time on complex projects by helping you keep track of more complicated rewards.
Longer process
Third-party pledge managers can take more time for creators to set up, and more time for backers to complete their survey. Backers will have to re-enter their credit card information and shipping address if they choose to purchase add-ons or upgrades, whereas Kickstarter will usually have repeat backer information already saved.
So which should you choose?
It all depends on your project. A survey conducted by Jamey Stegmaier of Stonemaier Games found that backers prefer both for different situations. For simple, streamlined projects, Kickstarter's Survey is usually a safe bet. For more complicated projects, a third-party pledge manager is probably worth considering. 
If you think more flexibility and clarity is better for your project because of its level of complexity, go with a third-party pledge manager. If you're just keeping it simple, stick with Kickstarter's, but take everything into consideration to find the right fit.
Curious what a backer survey looks like in a pledge manager? Take ours for a spin!