How to Use Add-Ons to Raise More Funds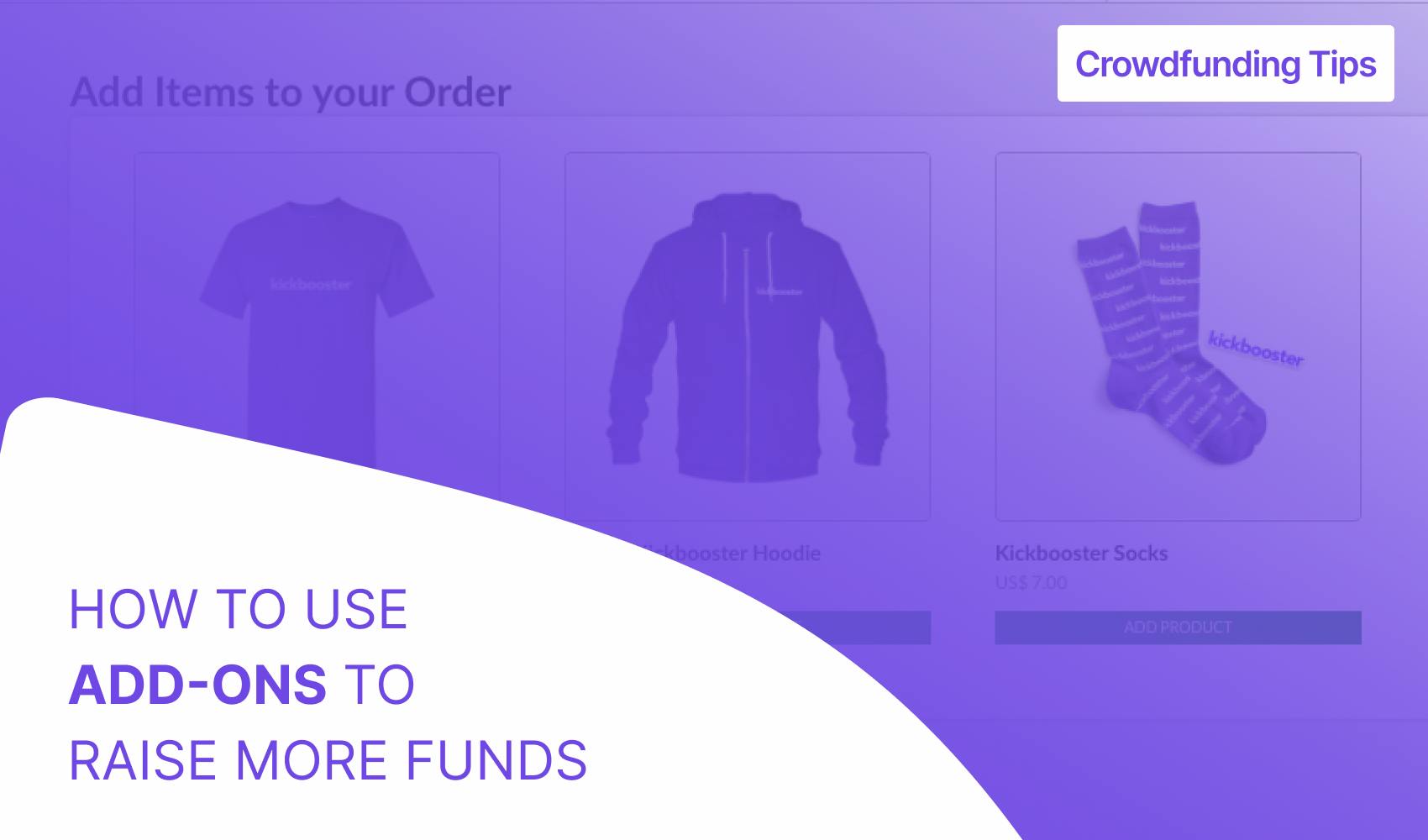 Offering tiers with add-on items or other extra rewards can help you raise more funds and give your backers more bang for their buck.
And just because your crowdfunding campaign is over and you've reached — or exceeded — your goal, doesn't mean you have to stop raising money.
You can use a pledge manager to get backers to add more items to their orders, or even upgrade them to a higher reward tier.
You can think of your backer survey like the checkout aisle at the supermarket. Just because a backer already has a cart full of rewards doesn't mean they won't want to add a little something extra to their purchase.
Usually your add-on items are lower-cost items that feel like a natural or easy sell since they complement the other reward items. But depending on your main product, the perceived value of the add-on product, and the total price at the end of the process, it is possible to successfully sell add-ons that are around the same price as the main product or reward.
While it might not make sense to try to sell your backers gum, batteries, and magazines during your survey, there are other products you can offer that will help you raise post-campaign funds while improving your backers' experience.
Types of add-on promos you can offer:
Buy one get one
This offer doesn't necessarily need to be a buy one get one free. The second item can be a percentage off, or even a different item for free or at a discounted price. It usually won't take much to get people to spend a little bit more than they originally intended as long as you show the value.
This example shows how a creator can double revenue from some pledges by offering a relatively small discount:
Backer pledged $90 on Kickstarter to receive a reward including an innovative compartmental suitcase and toiletry bag 
Backer can double their reward (get two suitcases and toiletry bags) by pledging an additional $70 during the survey
Regular cost: $180
Discounted cost: $160
Savings: $20
Added revenue: $70
See how you can make significantly more money just by doubling up rewards with a small discount? Your backers get more value and you raise more funds.
You can also do a second add-on item for free or at a discounted price. Usually something that's a little smaller.
This is especially effective for products offered during the survey stage. 
For example, a campaign for an indoor herb garden could offer add-on buy one get one packages of herb seeds — buying one pack for $5 would get them a second pack free.
Other ideas for add-ons you could offer during the survey stage include:
Refills, if your product has a consumable component (examples could include coffee or tea, teeth whitening products, or aroma therapy device)
If your project is luggage or backpacks, you could offer smaller bags for organizing them
Exclusive online content, like personalized videos, premium newsletters, how-to guides (video or written)
Little custom products exclusive to project backers like phone cases, tote bags, posters, stickers
Cameos: If you're doing a creative project like a video, novel, or comic, write backers into it for a scene
Exclusive in-person experiences, like factory visits, set tours, and so on
Other add-ons that can work during both the campaign stage and survey stage are complementary products that don't overshadow the main reward. These are little items that go perfectly with your main product, getting backers excited to have a more complete experience with slick, creative, or exclusive products. 
Locked features
Only "unlock" certain versions of your products (like colors, materials, and so on)  for an extra charge. This adds a level of exclusivity to your rewards that entices people to spend more to get a premium or exclusive version of your product. Usually these versions will cost a little more to produce, so the extra charge will help you cover those expenses. 
Here are some examples:
Wristwatch: Original product is made with aluminum, but the upgraded version in stainless steel comes at an addition $30
Kitchenware: Original product comes in white, black, silver, but backers who want candy apple red and robin's egg blue can unlock it for an extra $20
But be careful, make sure it's clear what aspects of your products are locked features. If it isn't clear that certain versions of your rewards are locked, some backers might feel disappointed or misled when they discover they need to pay extra to get the version of the product they were excited about. 
Special edition
Special edition items are exclusive to your crowdfunding campaign - things only backers can get their hands on.
Examples:
Signed copy of your product (works well for creative projects like albums, books, comics, documentaries, and so on)
Exclusive color options
One-time-only pricing on another product you offer or a product from a past campaign
Limited-time products or merchandise
Extra bonus functionality or exclusive add-on
If you're making these products exclusive to your crowdfunding campaign, create a limited number. This will motivate backers to pledge for those rewards before they run out. 
Spend-based rewards
You can offer your backers discounts or bonuses when they pledge a certain amount of money during the survey. This will help you raise more funds while helping backers make their orders bigger and better.
Example:
Pledge an additional $30 in add-ons and receive something for free

Upgrades
One of the great things about pledge managers is that they give backers the ability to upgrade to higher reward tiers after the campaign is over. This gives them the chance to sign on to a bigger reward tier if they missed out during the live campaign.
They can just pay the difference to upgrade to a higher reward tier, and even your 'pledge without a reward' support backer can pledge more and get an actual reward.
Make the most of your fundraising, even after it ends. Your backers believe in your project and genuinely want to support it, so giving them a chance to give more support, and get more rewards in exchange, is mutually beneficial.
There is a huge opportunity to continue raising funds through your backer survey with add-ons and upgrades, increasing average pledge per backer, and potentially creating a better relationship with them by offering more value. This can improve their experience, and potentially turn them into lifelong fans or customers.
Get creative and have fun with it, but be cautious not to get too complicated or overpromise and underdeliver. Your backers want you to succeed, so give them what they want!
Book a strategy call with us to discuss which add-ons are right for your project. We'd love to work with you to make your campaign a success!