How to Create Rewards that Sell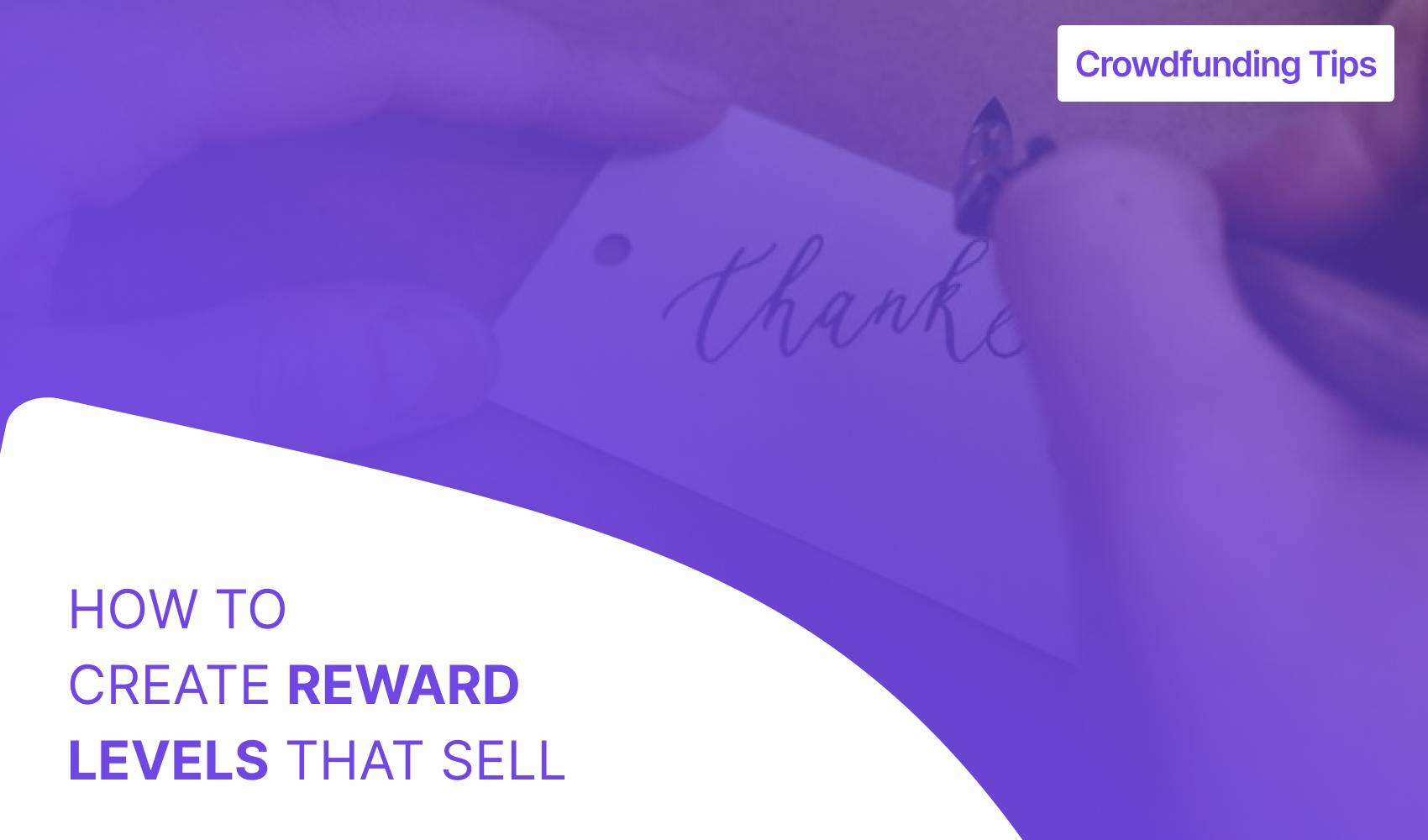 Every project creator wants to check their crowdfunding page and discover a full progress bar. It signals they have the resources to truly bring their project to life — and deliver something into the hands of real-life backers. 
To attain your funding goal, you'll need to consider marketing, product creation, and more, but no one will pledge to your project if you don't have rewards they love, and tiers that appeal to backers with different spending thresholds.
If you don't, you might struggle to reach your fundraising goal.
Picking your tiers and rewards needs careful consideration. Offering too few tiers can scare off potential backers who liked your project but couldn't find a tier they were willing to pledge to, but too many tiers might give potential backers analysis paralysis.
There's no one-size-fits-all solution for reward tiers. Every project is different. 
Some projects can offer simple rewards — the first tier for a book project could reward backers with a copy, and a higher pledge level could rewards other backers with a custom chapter or story plus some exclusive merch.
But other projects might require more complex rewards. If you're raising funds for a product that involves customized work or variations, you might have to offer more complex levels and gather more detailed information from every backer.
So while there's no simple answer to a winning reward tier structure, there are some factors that you should always consider when setting up your campaign's rewards.
Offer tiers with ascending benefits and rewards
Your primary pledge tier should include your main product, with rewards and pledges getting bigger and better from there. You can offer more of your product, additional accessories, or bigger discounts.
Your primary tier is the one you probably want most backers to sign on for, but it doesn't need to be the lowest pledge amount. 
Depending on your project, you could have a lower pledge level that doesn't include your main offering. Instead, it can include smaller prizes that are affordable for you to fulfill. This gives people who believe in your product an incentive to chip in without committing to a big pledge. 
Things like personal notes, stickers, tote bags, and posters are some options. This could be especially effective if you already have a large following on other social platforms.
Example: main product is an indoor gardening system. Extras include gardening shears, seeds, soil, and more.
Tea Crane offers "a hand-written thank you letter" and exclusive content for its smallest pledge tier. A good example of using your lowest tier amount to collect smaller pledges in exchange for affordable prizes that your audience will still value.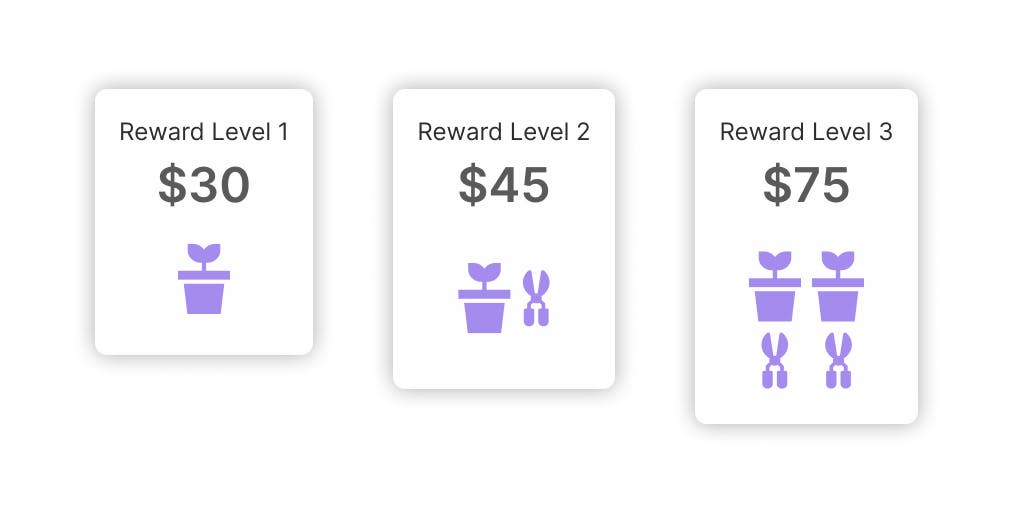 The information you get from these smaller pledges can be very valuable once your campaign's completed. With software like Kickbooster's Pledge Manager, you have an opportunity to up-sell these backers to higher reward tiers.
How should I price my reward tiers?
Find the MSRP
Figure out what you'll charge for the product after your campaign, this is usually called the manufacturer suggested retail price (MSRP). It's common for projects to offer rewards at a discount as a benefit for being a backer, so make sure your MSRP is high enough to accommodate that.
Pricing should be reasonable for your target audience and cover your expenses. Most of your reward tiers should include your project's main product or offering. Ideally it's at a price point that's profitable while still being cheaper than what they would pay for a comparable product in store. Feel free to round these numbers up to keep them clean and simple and create a bit of a cost buffer. For example if the MSRP is $18.23, round it to $19.
Keep your audience in mind
You can also keep in mind that backers might not mind paying a little bit extra if they believe in your project. Part of the fun for them is discovering cool new products and helping them get off the ground. That being said, they do still want something of value in return for their pledge.
Have a variety of price tiers
As we touched on already, every dollar counts, so it's good to offer a range of rewards at different price points. Some backers can afford to pledge $500, while others can afford $50. The most popular amount on Kickstarter is $25, so try to have one pledge level around that amount.
Look at competitors
Looking at your competitors and similar projects (past and present) is another way to determine pledge pricing and rewards. You want to be fair and competitive, but you also don't want to undervalue your products. Competitor pricing can also give you an idea about what backers are willing to spend on pledges for projects and products like yours.
All that being said, you should make sure each reward tier has something your target audience will value and can get excited about, even if it isn't your core product.
Try out early bird pricing
Early bird pricing can help your project pick up some momentum right at launch by giving bigger discounts on certain tiers to a limited number of backers.
If you do offer early bird rewards, make sure the jump to regular pricing isn't too big. This might make backers who didn't get in early feel like your product is overvalued at the regular price.
Offer bulk pricing
Consider offering quantity breaks between reward tiers. This can motivate backers to make bigger pledges so they can get more value for every dollar they spend.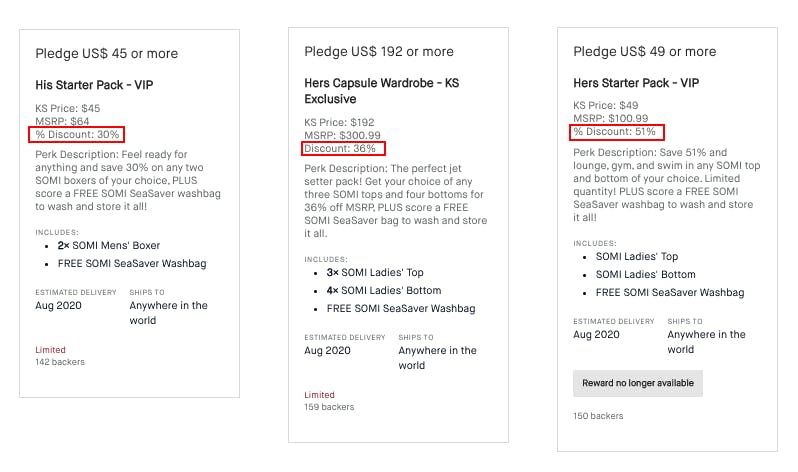 SOMI's "underwear for everywhere" gives a 30% discount for two pairs of boxers with its lowest pledge, plus a free bag. From there, the discounts get bigger.
For example, you might want to set your first tier at $100 with a reward that includes your product, and in your second tier include two of those products for $180, netting backers a 20% discount.
Offer free shipping if possible
Including free shipping for your rewards will make them more appealing to backers. Usually, this means that shipping costs are built into the price of the pledge, but positioned as free so people don't get scared away when they discover shipping fees at the checkout page.
For example, most US-based creators will offer free US shipping, even though that usually means the shipping cost is included in the pledge price. The shipping subsidy will be subtracted from the shipping fee for countries outside of the US. So if the subsidy is $9 and the cost to ship to the UK is $20, then the shipping fee for a UK-based backer will be $11.
The cost of shipping a reward should never exceed the cost of manufacturing it —  if it does, you'll need to reconsider what kind of rewards you're offering. Backers will almost definitely be scared away by shipping costs that big, or a price that high if you work it into the pledge cost.
Experiential or digital rewards can make for good alternatives if you're looking for something to fill out lower-priced reward tiers without having to worry about paying for shipping.
Whether or not you include the shipping fee in the price of your pledge, it'll count toward your total funds raised. Take a look at how other creators set up shipping to figure out how you want to handle it.
Give reasonable estimated delivery dates
Rewards that arrive late, or don't arrive at all, are sure to leave a bad taste in backers' mouths, and possibly taint your reputation in a way that negatively affects future projects. 
Backers don't want to wait too long for their rewards, so set expectations that are reasonable but still realistic. If getting all those products ready is going to take some time, make sure you give yourself some breathing room. It's always better to underpromise and overdeliver.
You may even want to choose different dates for different reward tiers. For example, you'll probably be able to deliver some rewards, like digital goods, faster than others.
Staggering delivery dates can be useful for more complex projects so creators can send their products out in batches as each set is ready.
But if things do go awry and you can't meet your delivery dates, be honest with your backers. Make sure you update them so they know they can still expect whatever rewards you promised them, you just need time to make sure they're perfect.
Keep it simple
Don't get too complicated with your reward tiers. Make sure it's easy for backers to understand what they're getting, and that every tier is offering proportional value for the price. This can be catered to your audience and project. For higher-value pledges, your prizes could include personalized products, meet and greets, and other special bonuses.
Try not to build different reward tiers for variations of the same item (like color or size) unless it affects manufacturing costs.
After your campaign, you'll be able to use Kickstarter's survey tool or a pledge manager like Kickbooster's Pledge Manager to collect order details from your backers, like color, size, and other preferences, as well as their shipping address and other information. This will help you execute and deliver your rewards with service that will endear backers and maybe even turn them into brand advocates.
Use limited rewards to leverage exclusivity
You can try limiting the available quantity of any reward tier to a certain number of backers. This can help you make sure you don't get more pledges than you can handle, which can be a good idea for labor-intensive products (like hand-painted portraits of your backers' pets). 
Having a finite amount of a certain reward is also good for creating excitement and exclusivity. It can motivate people to pledge right away so they can claim a reward before it runs out.
Try secret perks
Secret perks are a feature exclusive to Indiegogo. It gives you the option to offer potential backers exclusive prizes on your project page when they use a unique link. Friends and family who've helped you with the project or who want to be early supporters can use the link to access special discounts or products. 
It could also be used to encourage followers you already have on social platforms to visit your campaign page, making them feel special with access to exclusive products.
We hope these tips will help you decide on reward tiers that are perfect for your project. In short, it's all about offering rewards your target audience will love at prices that appeal to different spending thresholds. But you have to remember that your campaign needs more than a great product and rewards, it also needs marketing to drive traffic to your project page. 
You also have to make sure you can keep track of all your pledges and deliver people the rewards you promised them. A pledge manager can help you with this, and also give you the ability to up-sell after your campaign's over.
For more tips like these, check out our Pre-Launch Guide!