How to Create a Crowdfunding Fulfillment Plan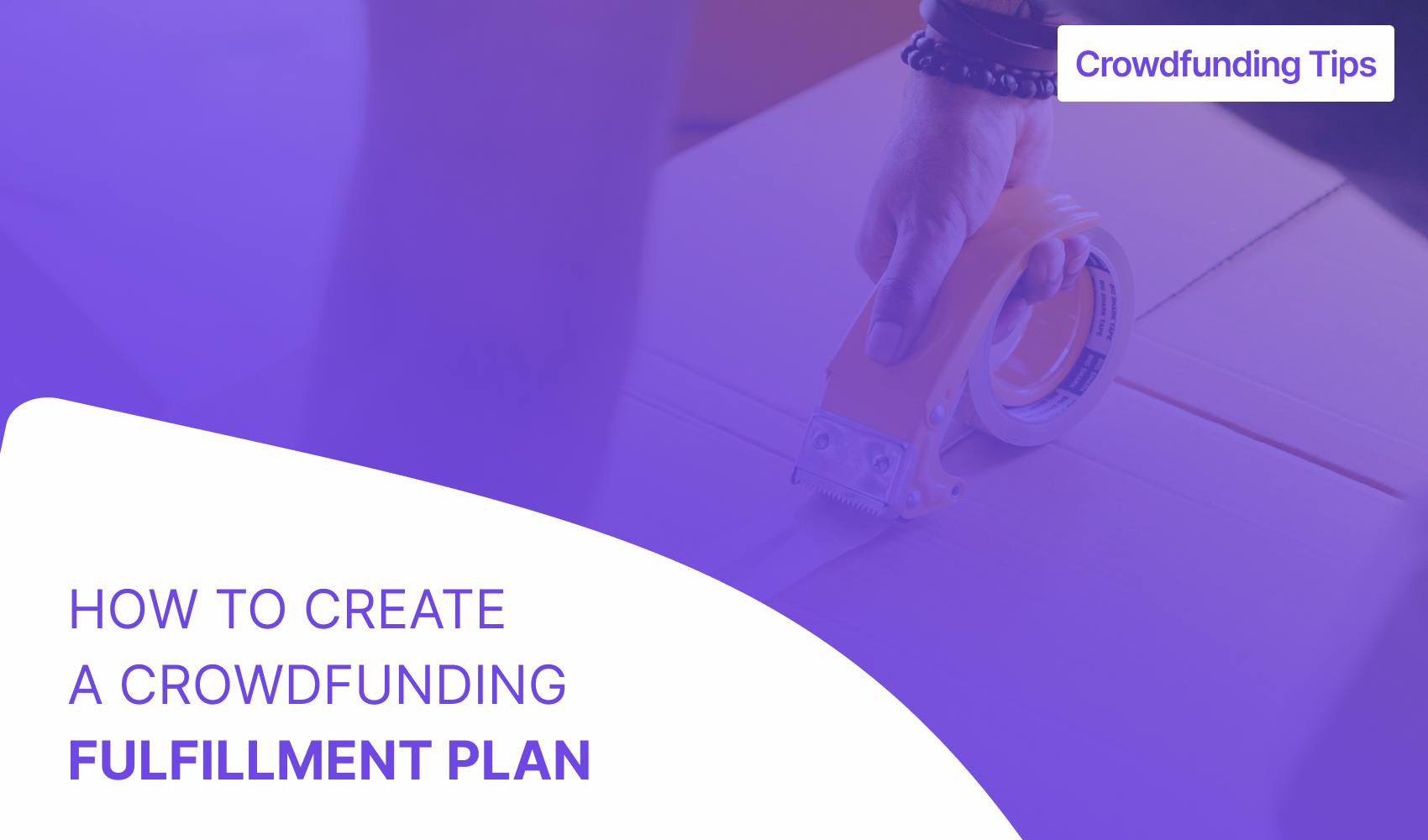 Once you reach your funding goal, you're not home free. There's still work to be done: fulfilling orders. Having a proper fulfillment plan in place before you even launch your campaign is a key to success.

It'll help you make all your backers happy so they'll get excited about your next project, and even become lifelong customers or fans.

If you don't have a plan, you can end up blowing a ton of the funds you raised on shipping costs, returns, taxes, delays, and disputes. But money isn't the only thing you should worry about— you'll also lose the faith of the backers who believed in your project and might have continued to support you.
This article will walk you through the basics of setting up a fulfillment plan so you can be prepared for success before you officially launch your campaign.
Backer surveys
Once you reach (or exceed) your funding goal and your campaign ends, you need to collect info from all your backers so you can accurately get them the rewards you promised. This is your chance to get everything you need from payment details to product specifications. Here's a list of common things you should ask in your survey:
Backer shipping address 
Product specifications such as size, color, or add-ons
Any other options specific to your product or project
There are a few ways you can survey your backers:
Use Kickstarter's native survey
Make notes from direct contact with your backers
Use third-party pledge managers
There are pros and cons to all these options, but in short, a third-party pledge manager is better for more complex projects that involve rewards with multiple options and add-ons. Third-party pledge managers also offer benefits like the ability to up-sell backers to higher reward tiers and a lasting connection with each backer by continuing contact after your campaign ends.

No matter how you end up collecting this information, it's very important that it's accurate. You'll be using it to get your product into the hands of the backers who believed in you.
Shipping
Overlooking shipping costs can cause big problems later on. According to easyship, on average, shipping will eat up about 10-15% of the funds most projects raise (depending on item and category). You should factor these expenses into your budget. Many project creators will include the shipping cost in the price of their rewards instead of charging for it separately.

Building shipping costs into the price this way allows you to position it as 'free shipping' and prevents backers from getting scared away by high shipping costs at checkout. This can be especially effective for domestic customers since prices will be relatively lower.

Deciding where you're going to ship is also an important part of building out your fulfillment plan. Do some research to make an educated guess about where you think most of your backers will live and make sure you offer shipping to those respective countries or regions.
Keep in mind certain countries and areas are considered remote and therefore less accessible, so carriers might charge extra fees.
For the most part, offering free shipping to your own country, or the primary country where you think most of your backers will come from, is a good idea. If you get international backers, you can still subsidize some of their shipping costs through the reward price and get them to cover the excess fees.
If this is your first project, it's always best to keep it simple and offer free shipping to your home country or region where it will probably be easier to coordinate.
If you discover that shipping to certain regions is too pricey (because subsidizing the costs in the prices will make the tiers too expensive and it seems unlikely that backers will want to pay those high fees), you can make it so your project is only available to residents of certain countries.
Fulfillment companies charge you every time they move a package, so with an efficient plan you can reduce the number of individual units you need to move by sending out each reward tier in waves, or negotiating with your carrier or 3PL partner.
Understanding some of the following terms will prepare you to communicate with potential fulfillment partners and find the right deal.
You can also use easyship's Crowdfunding Shipping Cost Calculator to get real-time estimates on shipping costs, or learn more from Kickbooster's helpful article on shipping.
Duties and Taxes
This is an important detail you can't overlook, especially if you're choosing to ship internationally. You should calculate these costs before launching your project so you know what locations you can affordably fulfill orders to and how to price your reward tiers.

Figuring out where you can't ship is important. If it turns out it's too expensive to ship internationally, you don't want to disappoint backers after they pledged funding by telling them they can't actually get a reward, or that they have to pay a bunch of extra shipping fees to get them.

These fees will usually vary by country, so you need to decide which countries you can ship to before making your project public.

If you decide to go ahead despite these extra costs and can't build them into your reward pricing, make sure you inform backers that they'll have to pay extras fees like VAT (value added tax) if they live in certain countries.

Take a look at easyship's resource to help you understand shipping duties and taxes better.
Brokerage fees
Brokerage fees can sneak up on creators. What are they? Extra charges some carriers incur on international shipments. Creators fail to plan for them because they're often not included in shipping rate quotes, so it's something you need to look out for during your planning stage.
Packaging
Many creators might forget that when they pay for shipping, it's not just the weight of the products themselves, it's also the packaging they ship it in, and sometimes the amount of space it takes up.

Going with packaging that's even slightly bigger than it needs to be can end up costing you thousands if you're shipping out a high volume of individual units.

Most carriers now measure both the deadweight and dimensional (or volumetric) weight of a package and use whichever one is greater to determine costs. Dimensional weight is calculated by multiplying the length, width, and height of a package and dividing it by a cubic divisor. That means that in some situations, a small reduction in packaging can save thousands of dollars.

So when you're planning your project, you need to take these factors into consideration:
Picking packaging that will protect goods from damage
Optimizing packaging costs by measuring both deadweight and dimensional weight and finding the most effective and affordable solution
Getting quotes from various shipping suppliers
Making sure you're not using unnecessary packaging that will add unneeded weight and potentially cost you if you're sending out a lot of orders
If you're on the hunt for sustainable packaging that also provides a unique experience for your backers, check out our article here.
Warehousing
When it comes to storing your products, you generally have two options:
You can ask your staff, team, friends, or family to help you store and send out orders 
You can hire a third party logistics provider (3PL) 
Depending on the size of your project and the funds you raise — and how nice your friends and family are — the first option might be feasible. But be realistic. You don't want to put yourself in an impossible situation and let down your backers.
But if you think you can handle it, factor some extra time into your plans, and make sure you have friends who don't mind staying up late to lend you a hand packing up orders.
If you know that a skeleton crew of friends just isn't going to cut it, you'll want to go with a 3PL. They come with a few benefits:
Having professionals package your items for you
Not having to figure out your own way to efficiently packaging all your orders
Being able to ship from warehouses in strategic locations
If it's your first time, there are 3PLs that have experience working with crowdfunding projects. Getting information from them should help inform your plan.
You can start with Kickstarter's list of recommended 3PLs and other fulfillment service providers, including manufacturing and prototyping.
Whichever option you go for, this article can help inform your plan, especially the "common mistakes to look out for" section.
One more option for creators with existing stores
If you have an eCommerce store, you can add the rewards to your store's inventory and use Kickbooster's Pledge Manager to leverage all your regular providers and processes. This can eliminate a lot of extra work and stress.
Kickbooster's pledge manager integrates directly with your eCommerce store so you can manage your backers' pledges like you would regular orders, and use all of your regular service providers. When backers complete your survey, it automatically creates an order on your store, saving you a lot of time.
If you don't have an eCommerce store but were planning to set one up after your campaign, Kickbooster's Pledge Manager could still be a great choice for you.
You can use your eCommerce platform's expert directory or app store to pick services (like 3PLs and more) and optimize all the work that goes into fulfilling your backers' pledges.
The important thing to remember is that a lot more goes into a successful crowdfunding campaign than marketing an idea and reaching your funding goal — you need to have a long-term plan in place to ensure your project is realized and backers get the awesome product they believed in.
Use software like Kickbooster's Pledge Manager to help you streamline and manage all your fulfillment and shipping needs.
Interested in trying it out?