Crowdfunding Tips to Help Take You from Funding to Fulfillment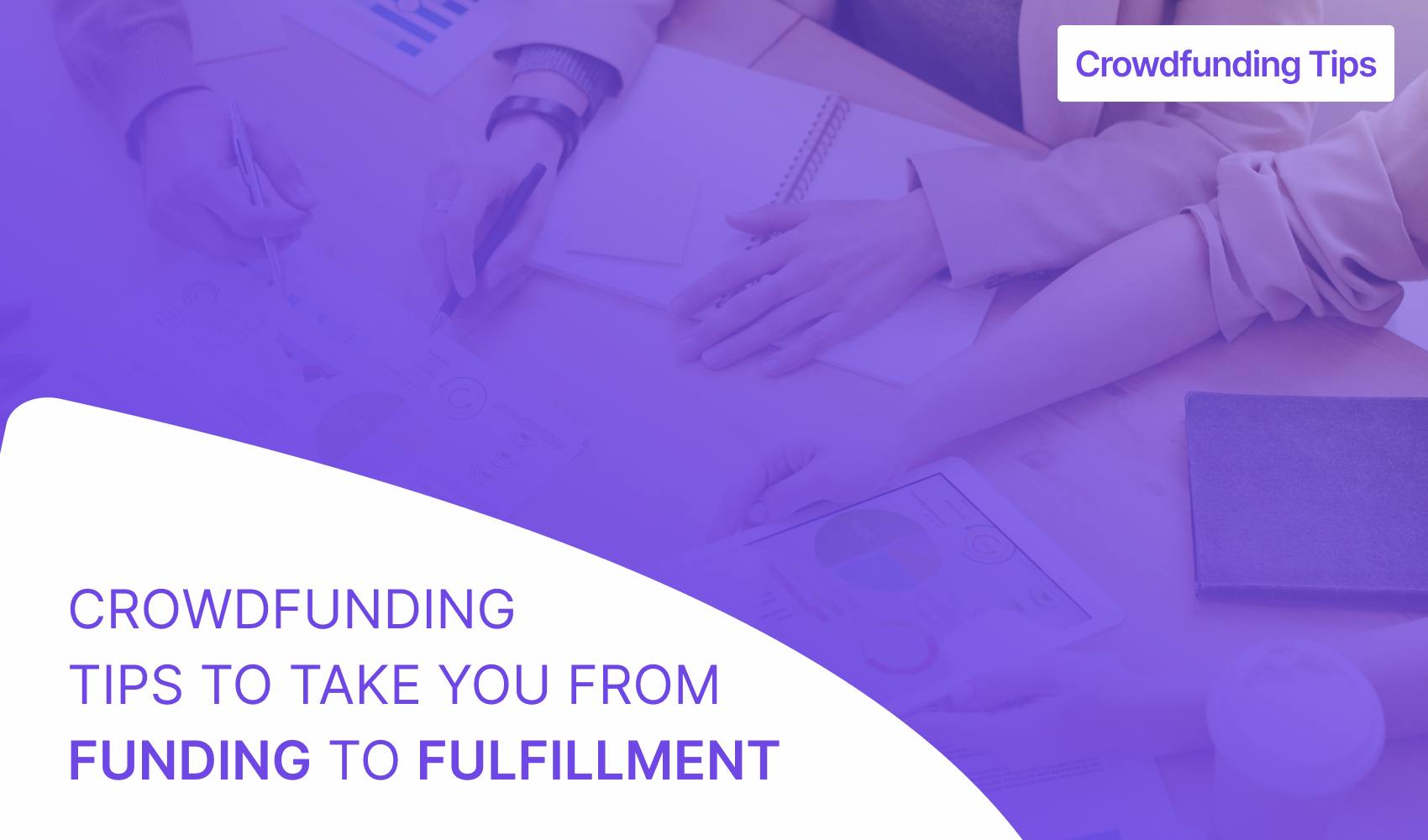 So – You've chosen to go down the reward-based crowdfunding route. We're sure you've read every checklist, blog, forum and Facebook group available – you're feeling ready!  Just to be safe, we've prepared a few tips you may not have seen in your research.
Here at Kickbooster, we've learned a thing or two about the repercussions a campaign can go through without considering a few key things during their pre-launch prep.
If you follow these simple tips, we promise you'll be thanking yourself later!
Think about what info you'll need to collect AFTER your campaign BEFORE you even launch
Take note of what info to collect during the campaign and what will need to be collected afterwards.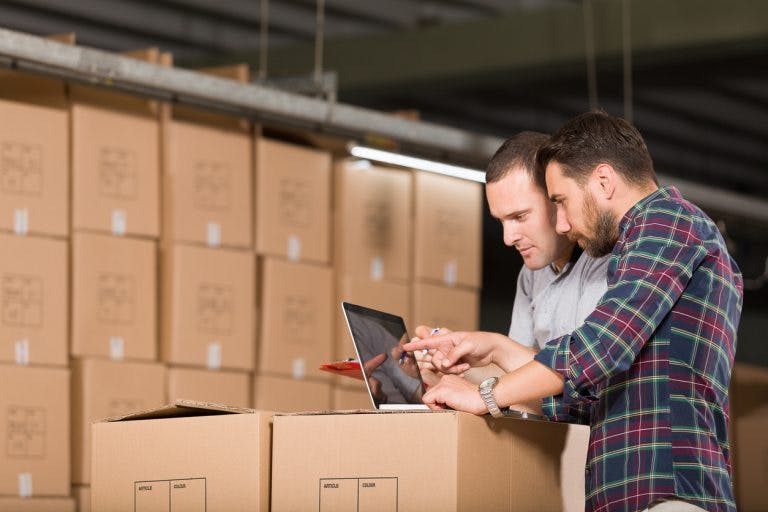 The reality is – when a backer pledges towards your campaign, you'll receive limited information about them. In fact, if you're running a Kickstarter campaign, you won't even have their address at this point.
Shipping addresses aside, let's say your product comes in various styles and sizes.
Depending on your product variations, having each style available in their own reward level can sometimes create too many options and potentially steer people away from making a decision.
Right now, all you need to know is which reward level they're pledging towards and save the rest of the questions for later. At the end of the day, you'll need to collect more info from your backers if your project is successfully funded. It's a great idea to launch a survey to collect shipping addresses and product specifications.
If you're looking to increase your funding even more, we suggest using a third party tool. Check out Kickstarter's list of fulfillment resources for some ideas. To avoid an influx of questions and comments from your backers, it's a good idea to tell them upfront that you'll be collecting more info from them if your campaign succeeds. A lot of first-time backers may be confused with the survey process.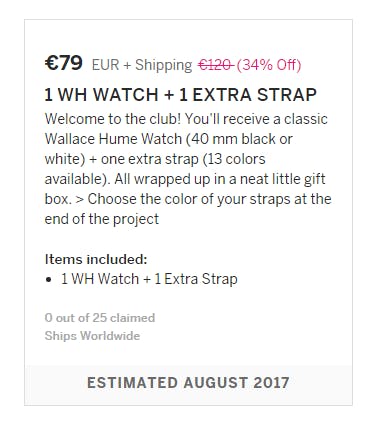 Make your add-ons easy to calculate
It's very common for backers to add extra funds to their pledge to include add-ons or simply to multiply their order.
Without clear instructions, backers might not know exactly how much to add to their pledge. You may find yourself having to ask them to clarify what they wanted and potentially have them adjust their pledge amount.
To help guide your backers, include an add-on menu to your campaign page, like The Everyday Backpack did. As you can see, they've given a clear outline of how much the backer should add to their pledge to include various items.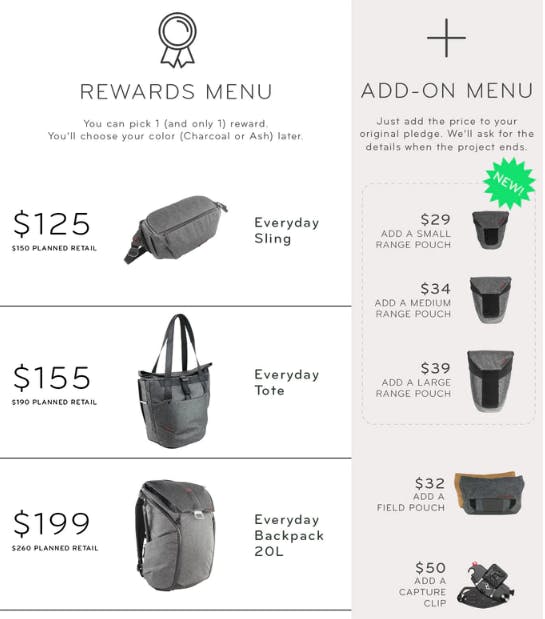 If you're offering different pricing for different reward levels, you'll want to break it down for them so it's clear.
Again, keep in mind that there are tools out there that can help you collect more funding and backer order specifics after your campaign is over! Using a survey tool, your backers can match their additional funds to the actual items they want, as well as add even more items to their order.
'Upgrade' tiers don't always go as planned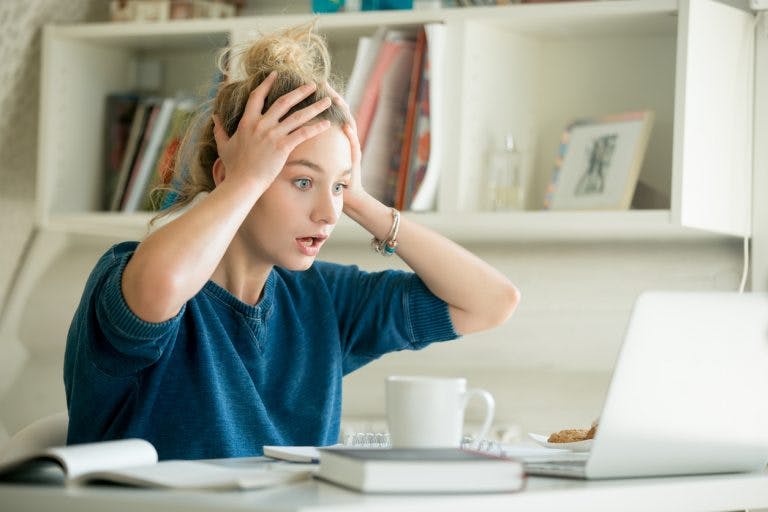 Unlike Kickstarter, Indiegogo lets backers pledge towards multiple perks. We've come across many Indiegogo campaigns that offer basic perks as well as 'upgrade' perks.
Here's an example:
Pledge $399
– 1 x Watch
– 1 x Canvas Strap
Pledge $50
– Upgrade to Leather Strap
The campaign is assuming the backer will know that they need to pledge in the $399 perk as well as the $50 perk in order to receive the Watch and Leather Strap, however you might be surprised at how often this is missed.
This perk layout can result in 2 issues:
1) The backer only pledges in the $50 perk
Now you have to reach out to them to process payment for the actual perk they are upgrading from, causing more delays and headaches for everyone involved.
2) The backer pledges correctly in both perks but now you have 2 orders to consolidate
If the backer pledges correctly in this scenario, you now have 2 orders which need to be matched up in order to avoid sending them both a Canvas Strap and Leather Strap. This can really complicate things during time of fulfillment.
To avoid this, you may want to consider having both options as their own perk, or offering the upgrade option during the survey collection.
Use the Kickstarter and Indiegogo built-in shipping tools
Both Kickstarter and Indiegogo allow you to set shipping costs per reward level, per country.
Avoid worrying your backers about adding the right shipping fees to their pledges by using the simple tools provided to you. It makes it much easier for you and your supporters.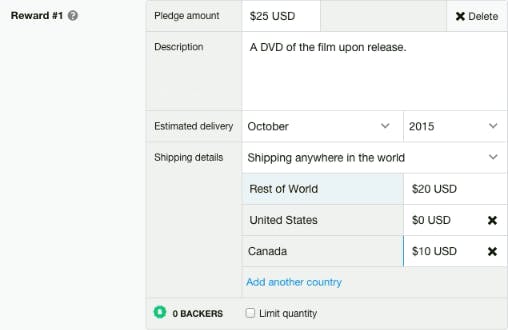 Even if you mentioned it during your campaign, it's possible your backers didn't read the fine print!
So, asking them to pay additional shipping fee's after your campaigns over could cause a lot of issues, like an influx of support emails.
Be sure to incorporate all factors when calculating your fees to avoid surprising your backers with unfortunate increases or possibly having to deal with the costs yourself. Consider everything from your packaging and tape to potential taxes and customs fees!
Find out exactly how your data should be structured for smooth fulfillment
If you're working with a fulfillment company to help with your packaging and shipping needs, find out the exact format they need for your orders so you can make sure your backer survey is setup correctly. Whether each product needs it's own SKU, or if they need 1 order per line, it's crucial for your survey to be setup exactly how you need to see it for shipping purposes.
Be sure to discuss your needs with the pledge manager you choose to work with so they can accommodate the data structure your fulfillment company needs. The more you prepare for this, the smoother the transition to your fulfillment stage.
Some final advice
You might feel like you've checked every single possible box, including the tips in this article. At the end of the day, some annoying stuff will happen.  Give yourself a buffer in all areas, especially with price and estimated delivery times. Even if you have the perfect team, resources and partnerships to help get you from funding to fulfillment, things might come up that you didn't expect.
We hope that by following these tips, you will save yourself some headaches and allow more time for celebration. We know you've earned it!
For more info about building an attractive campaign, click here!