Communicating With Your Backers: The Why and How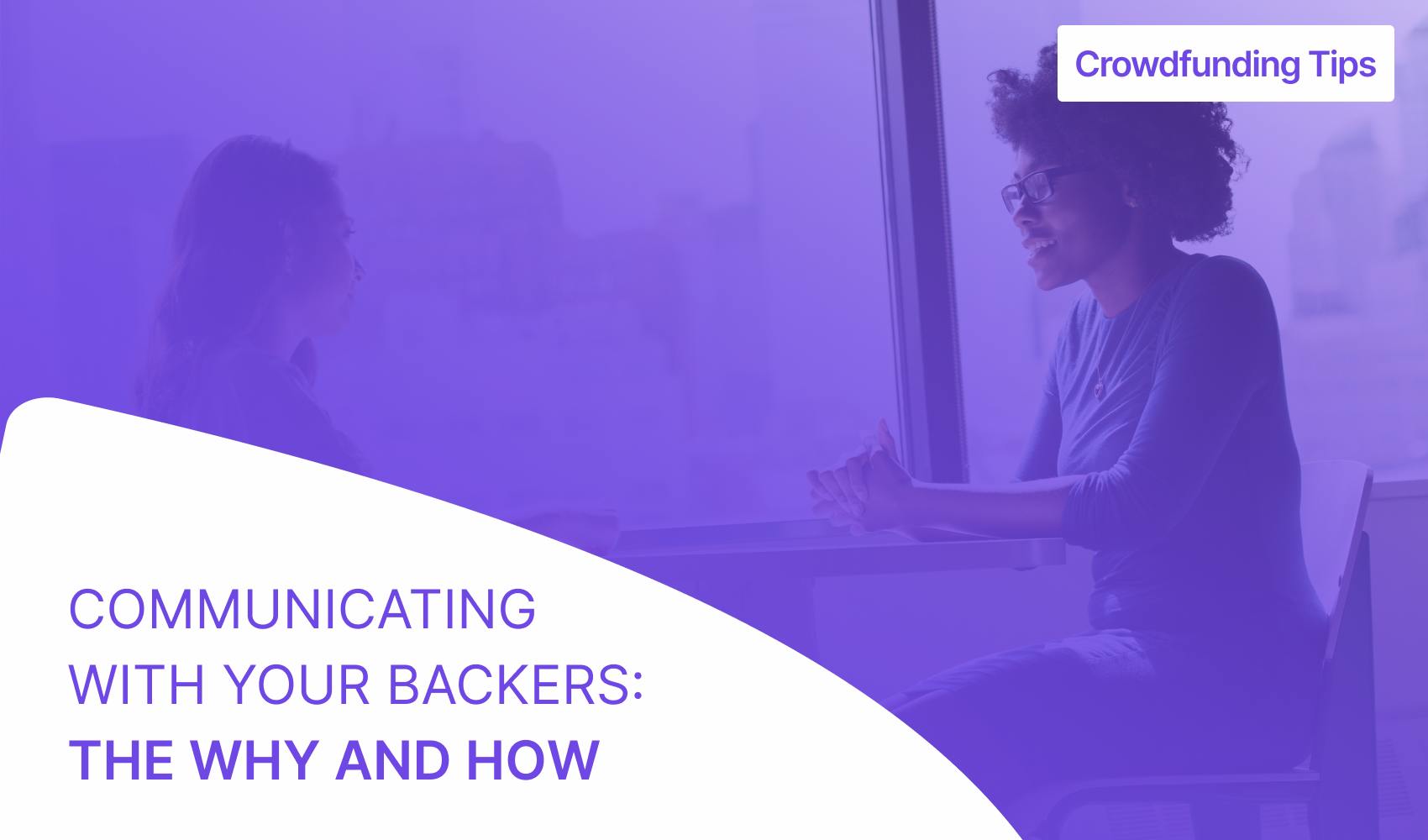 One of the smartest things you can do when running a crowdfunding campaign is communicate with your backers.
These are the first people (besides Mom) who are putting faith into your product and your story. They're extremely valuable to your campaign and if you're communicating with your backers properly, they can
provide valuable feedback,
become fans for future projects and
will help spread the word for you.
Stressing out about what to say to your awesome backers and when? No worries, we're sharing our favorite tips for communicating with your backers. After all, you wouldn't be here without them!
Before Campaign
It's a huge benefit to have contact with potential backers before your campaign even launches!
Pre-Launch
A pre-launch page helps collect backer emails who can be notified when your campaign launches and receive exciting news or updates before the launch. Make the most of your time and your backers before the campaign goes live! Plus, it creates a hype around your campaign so your launch day sees a ton of traffic!
During Campaign
While your campaign is live, backers should be kept in the loop. Use your Backer Updates section of your Kickstarter page for communicating with your backers to send updates and news about your campaign. This is the #1 way backers can be reached since it's a frequented area and messages will be sent right to their inbox so make sure you've got some great content!
Some great updates you should be featuring are:
Milestones– let backers know if you've reached a certain number of backers or dollar amount raised
Media appearances– any time you're featured on a blog or website, let people know! It lends credibility and they can go check it out for themselves
New reward levels or stretch goals– when you have new reward levels or the backers have unlocked a stretch goal, let them know (and congratulate them!)
New promotional material– videos, photos, and anything new that you want people to see!
Things that you're excited about– this could be anything you think people would be excited to hear- did you choose a manufacturer? Get funded in only a few days?
Here's the place to show it off
Countdowns– don't just wait for the last 24 or 48 hours! Start the countdown early, maybe even a week before to make sure everyone who wants to pledge can do so.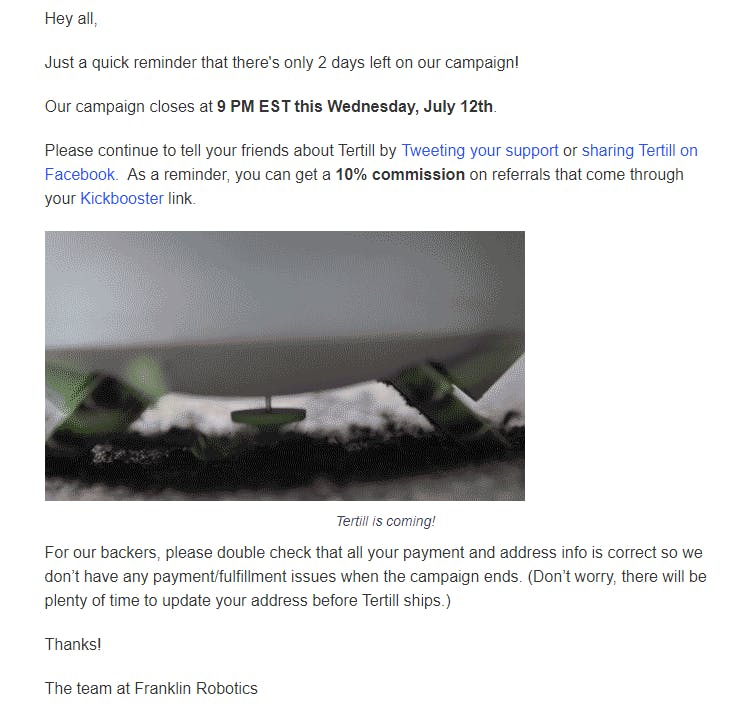 Include images when you can and make sure you're thanking your backers for their support along the way. A little appreciation and recognition goes a long way!
While it can seem tiresome constantly communicating with your backers, it's a vital step in reaching success. And there's a trick to help! Along with posting regular updates, be sure to check the comments section of your page. Many people will ask questions here and while it looks like a lot, you'll find that most of the comments are asking the same few questions.
So, collect them and answer in a backer update, because every time you post a backer update all your backers will receive an email. Answers delivered right to their inbox? Brilliant!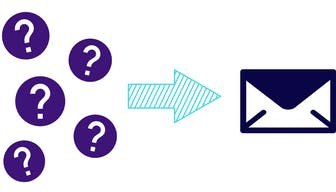 Many people will post backer-only updates, meaning other people can't see the page. Unless there's a really good reason to keep updates private, we suggest making them public in case there are potential backers following the campaign. There may be issues that have been resolved and accounted for in backer updates that potential backers can't see.
While there's no magic number on the amount of times you should be posting updates, remember to keep it consistent. It's safe to say that an update a week is a fair number to keep backers up to date without making them feel overwhelmed. If you don't post any updates at all backers will be left wondering if you're even working on the campaign, if you're taking it seriously, or if they're being scammed.
Post Campaign
Once your campaign reaches its funding goal, don't forget about the people who got you there! As soon as your campaign is done, it's a good idea to let backers know what to expect next (surveys, emails, etc.) so you're not faced with a huge wave of questions.
It can be an extremely busy time trying to get production in full swing, but remember to keep your backers in the loop with all the hard work you're doing to get your products in their hands.
Updates don't have to be as frequent as during the campaign, but remember to keep communicating with your backers consistently and provide updates at least every two weeks.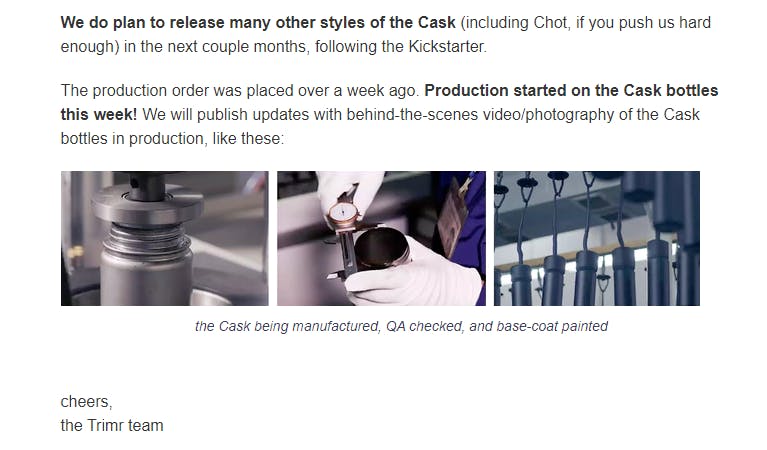 The worst mistake you can make with your communication is going silent.
Even when things aren't running as smoothly as you'd like, it's important to be honest with your backers. Not every update will be one you want to make but staying silent instead is a sure way to lose backer enthusiasm and all the traction you gained during the campaign.
Don't hide and be sure to communicate early and often!
If shipping is delayed, let your backers know! Are they all going to be happy about it? Probably not, but at the end of the day they'll appreciate the fact that you're being transparent in your business practices. Most seasoned backers will know shipping delays are actually pretty common and will understand. Let them know you're doing the best you can to resolve any issues you're experiencing and will continue to keep them updated (and actually mean it!)
This is the time to address any concerns you have regarding individual orders and let backers know what the next steps are! It's a great idea to use a post campaign survey to manage backer orders and emails.
Some great emails to send out are
Thank you for support
Survey Updates (when to expect, when they are closing, etc)
Manufacturing Updates
Shipment Updates
Remember these people are helping you launch your new product so treat them with respect.
Good or bad, if you're communicating with your backers properly and they feel appreciated, they'll stick with you. Keeping them in the loop sounds so simple, but it does wonders for your campaign and any future campaigns you may have! Your backers are the reason you're here, don't forget to show them just how much you appreciate them!